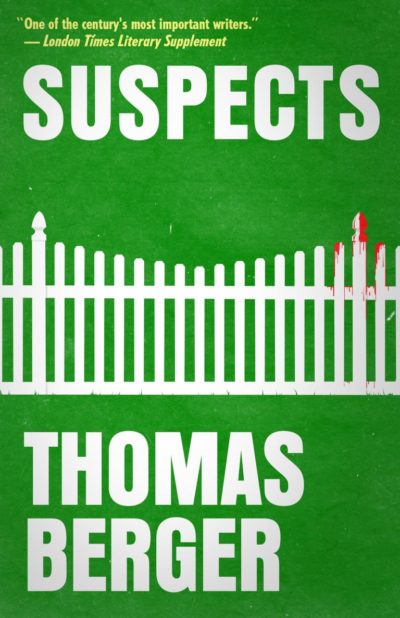 Suspects
Little Big Man author Thomas Berger takes the murder mystery and runs with it in this trip around a quiet suburb with a dark secret.
"A cutting, ironic wit and a precision of detail so deadly it hurts when you laugh." —Ms.
Mary Jane Jones doesn't like to meddle. She's content to stay out of the admittedly tame gossip of her suburban neighborhood, even in the fresh loneliness of widowhood. In fact, if it wasn't for the daily invites to dinner she receives from her sweet neighbor, Donna, she would be content to just stay home alone. Never one to risk being rude, Mary slowly finds herself not just a frequent guest in Donna's spotless house, but enjoying her company, and that of her three-year old daughter.
So when Donna doesn't pick up the phone during their usual dining hours, something's too amiss for Mary to stay put. Unable to depend on slow moving cops, Mary doesn't just come over, she breaks in.
What she finds is almost beyond comprehension. Donna and her little girl have been brutally slaughtered in their beds.
The innocent façade of the town shattered, two world-weary detectives must find the murderer before he strikes again. But as officers Nick Moody and Dennis LeBeau grill their two primary suspects, Larry Howland, the late Donna Howland's husband, and Lloyd Howland, Larry's half-brother, the harder it is for them to piece together the motive. Lloyd, who had been in love with Donna for as long as he can remember, forges a bond with one of the detectives, but can't seem to keep away from oddball scenarios that put him at odds with the law. Between his misadventures and the mystery brewing in town, Suspects is a story that entertains on every single page.
Berger, Thomas