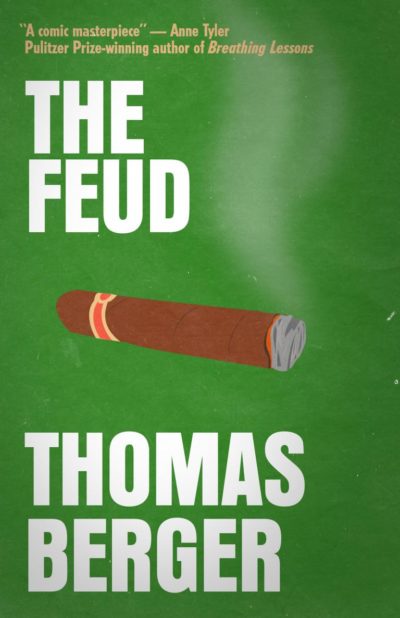 The Feud
Nominated for a Pulitzer Prize, The Feud chronicles a hilariously destructive rivalry between families from neighboring towns in 1930s America.
"I marked my copy of THE FEUD with a star wherever its blend of irony, parody and slapstick made me laugh out loud; some pages look like a map of the Milky Way." —The Washington Post Book World
"A comic masterpiece" —Anne Tyler
What begins as a small spat over an unlit cigar in a hardware store spirals out of control for Dolf Beller and Bud Bullard. Dolf has come to make good on a promise he made to his wife years ago. Feeling generous, he's finally getting around to stripping the varnish off her dresser to reveal the mahogany within. It's a job he's never done before, and worst of all, the teenager that's supposed to be helping him at the counter begins hassling him for chomping on an unlit cigar.
When Bud Jr. calls over his father to talk things out, Dolf is about ready for a fight. He just wasn't prepared to have a gun drawn on him by a one of Bud Bullard's relative—who just happened to be there and happened to love impersonating a police officer. Left embarrassed and begging for his life, Dolf goes home and tells a version of his story his pride can live with. He also bars his family from communicating with any of the Bullards. Conflict resolved.
Until the next day, when Bud's hardware store goes up in flames and Dolf's car explodes. Unable to see the incidents as unrelated, these two families enter a battle that's as bitter as it is funny. With rich characters dotting every page, this is a Berger classic that can't be put down.
Berger, Thomas