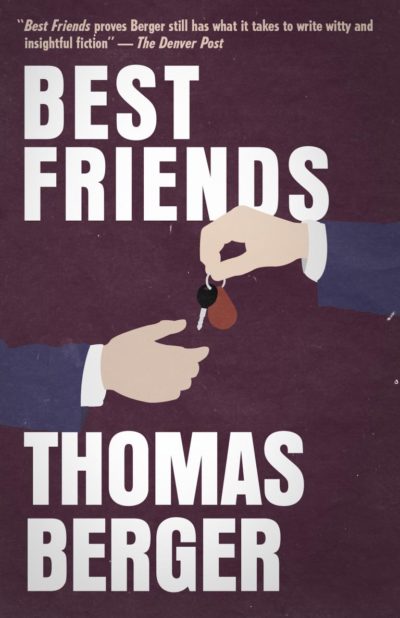 Best Friends
 "The characters in  Best Friends…are…recognizably human in their weaknesses and their destinies. It is Berger's genius as an observer and storyteller that we never, for a moment, take our eyes off them."—Jeffrey Frank, The Washington Post Book World
A moving story about childhood friendships falling under the strain of adulthood quickly becomes so much more in this tale that is as absurd as it is true to life from the author of Little Big Man.

Roy Courtright and Sam Grendy have been best friends for as long as either of them care to remember. As far as they're concerned, they're brothers, but sans the mess of a sibling rivalry. That they're complete opposites has never mattered. Until now.
After Sam suffers a heart attack, Roy and Sam's wife Kristen both find themselves wishing they had said more—to Sam, and to each other. Just as Roy begins to grapple with these new feelings for Kristen, things go from bad to worse. The woman Roy's been meaning to break up with has been murdered.
What starts off as the charming tale of an oddball friendship quickly becomes a feast of shocking twists, heartbreak, and vengeance that only Thomas Berger could weave.
Additional Praise for Best Friends:
"Berger's…style [is] at once elegant and casual, with his usual mix of sweetness and cynicism."—Los Angeles Times
"[Berger's] precise and exquisite dialogue [are] entertaining, even when the plot is ridiculous. And his deeply ironic view of the world we live in is refreshing, especially these days when irony is in short supply."—Milwaukee Journal Sentinel
"Incorrigibly subversive."—The Hollywood Reporter
"[Best Friends] is, in fact, a compact accomplished novel of ideas. That Berger's take on adultery, loyalty, friendship and myriad other intangibles is both deeply satirical and deeply felt is perhaps the book's real wonder." —LA Weekly
"No other writer can build a symphony of seriocomic confusion with such a sure touch. Berger's terrific plot takes several unforeseen and unsettling turns en route to its savage denouement. And it's capped by an absolute killer of a final sentence. Nobody writes them like Thomas Berger. Not to be missed."—Kirkus Reviews
Berger, Thomas