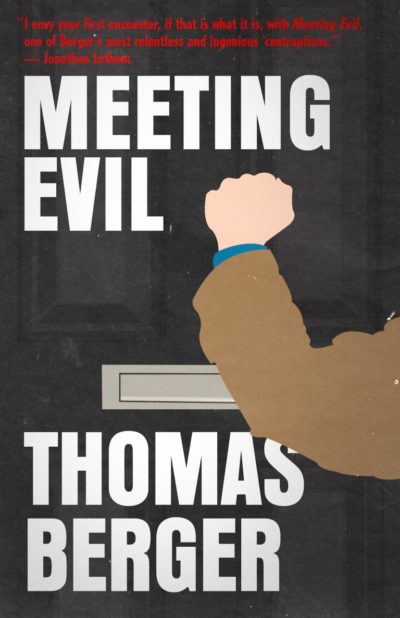 Meeting Evil
"The author creates a world in this book that is so corrupt, so consistently vicious, that innocence can glow visibly within his misunderstood protagonist. The plot gets nicely complicated…and the entire contraption claps together in a great, unpredictable, satisfying calamity."—The New York Times Book Review
Thomas Berger, author of Pulitzer Prize-finalist The Feud, masterfully blurs the lines around reality in this breakneck thriller following one man's encounter with pure evil in high tops.
John Felton is a creature of habit. His job in real-estate comes with no surprises; it's respectable work he can be proud of. Routine has been kind to him, but when a normal Monday of looking after the kids gets interrupted by a ringing of his doorbell, John may have to kiss his life of habit goodbye forever.
Richie is a man in need of some help. His car stalled just at the bottom of a hill near John's home, he asks John for a push start. John, "conscious of a lifetime urge to do right," has a hard time saying no. But a push start soon becomes a running start, and when John's shirt gets snagged in the car door, Richie doesn't offer an apology. He offers John a ride.
Not entirely sure himself why he agrees to join Richie, John steps into his car and is driven far away from the reality he once knew. From the thin thread of a shirt, John gets dragged into Richie's frightening world, one event at a time.
To make matters worse, the longer he spends in Richie's company the harder it is for the people around him to distinguish John from this curly-haired devil in a baseball cap. Can John put an end to Richie's mad and murderous adventure before it reaches the most terrifying place of all—John's very own home?
Additional praise for Meeting Evil:
"Spare, meticulous prose…sharply evocative of human weakness and rage."—The Washington Post
Berger, Thomas