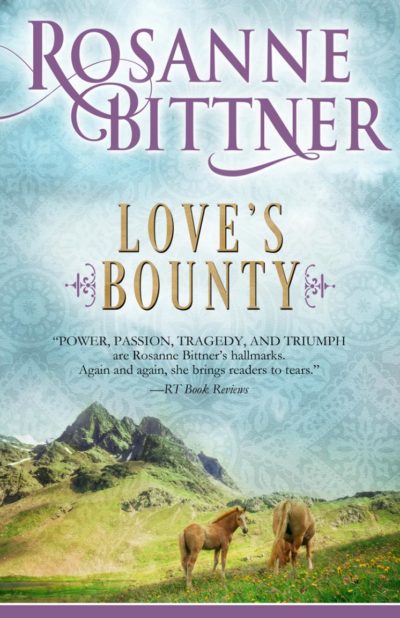 Love's Bounty
USA Today bestselling author Rosanne Bittner is beloved for her sizzling novels about the early settlers of the West. With Love's Bounty, she continues to delight readers with the passionate tale of a proud woman and the reckless bounty hunter who steals her heart.
Life hasn't been easy on young Callie Hobbs. After her father's sudden death and her mother's murder, there isn't much left for her on the outskirts of Rawlins. Alone with a ranch to run, Callie could sell it all, cut her losses, and find a suitor in town.
But Callie knows only one thing will bring her peace: Seeing her mother's killers hung. To find them, she turns to the most ruthless bounty hunter on this side of the country: Christian Mercy.
Distant and brooding, Christian Mercy is far from the ideal travel companion. But as their journey unfolds, Callie finds herself falling for those blue eyes that flicker with something deeper than she could have ever anticipated.
He wants redemption. She wants revenge. And as they close in on their targets, Callie and Chris bite back a fear worse than death. Could their love for one another douse the burning rage that keeps them going?
Bittner, Rosanne