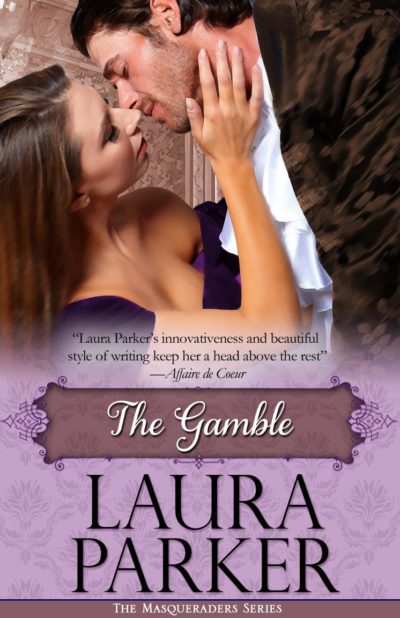 The Gamble
The Masqueraders Series - Book Five
The Masqueraders Series, #5
She's ready to risk everything for a man with nothing left to lose — except his heart.
"You won't be taking a gamble when you pick up Laura Parker's latest titillating romance…a sure bet to satisfy readers." — RT Book Reviews
Jack Laughton was a viscount who one night traded his life of leisure in order to masquerade as a notorious highwayman: "Black Jack" Law. Nothing could touch this conniving rogue's soul…until his eye fell upon the beauty whose stagecoach he attempted to rob. Now he is willing to do anything to make this alluring woman his — even abandon his wicked ways.
Sabrina Lindsay has a knack for defying social conventions. Her endless escapades in London society have enraged her guardian who wants nothing more than to marry her off to a prominent nobleman. But it will take much more than threats to bend Sabrina's stubborn will. Sabrina vows to do whatever it takes to save her brother Kit, imprisoned by their guardian to insure her obedience…even if that means making a pact with the devil himself, "Black Jack" Law.
It's a gamble when the dazzling and daring Sabrina and the handsome rogue Jack join together, but the true risk comes when it's her heart he's trying to steal.
Parker, Laura