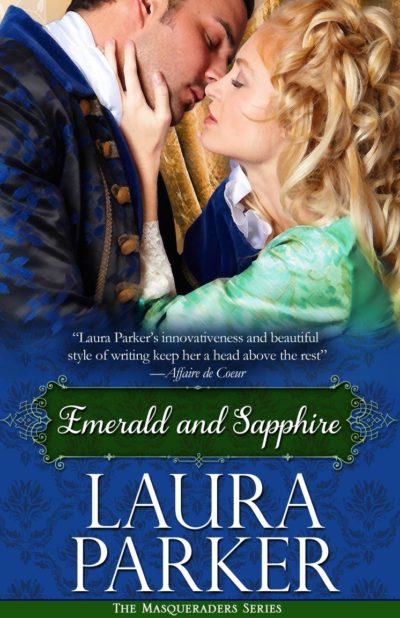 Emerald and Sapphire
The Masqueraders Series - Book Four
The Masqueraders Series, #4
A man who lives two lives risks dying twice.
"A most inventive storyteller." — RT Book Reviews
He's known as Merlyn Ross, an actor and petty thief. He's a handsome commoner who wears a leather eyepatch, his other eye a piercing emerald green. He's also known as the Comte de Valure, a dashing French nobleman who wears a grey wig and a silk eye patch, his other eye an chanting sapphire blue. Admired by men, adored by women, no one suspects that Merlyn and the Comte are one and the same, or that both men steal more than kisses when setting out to seduce London's wealthiest women.
But one night changes everything.
Cassandra, a highborn lady, is the target of a robbery, and the victim of amnesia. Locked away as a vagrant, she is sold for one night's pleasures to a prisoner who has been condemned to death, a man with an emerald eye. One year later, as Cassandra's memory has been partially restored, her child, conceived on that fateful night, is being held hostage by her father-in-law. It is only here that she meets the Comte and realizes who he really is. Determined to keep the woman he fell in love with on their night together in that dark prison, Merlyn must pull off the heist of his lifetime against a formidable foe, and he must become the one singular man worthy of his one true love.
"Laura Parker's innovativeness and beautiful style of writing keep her a head above the rest." — Affaire de Coeur
Parker, Laura