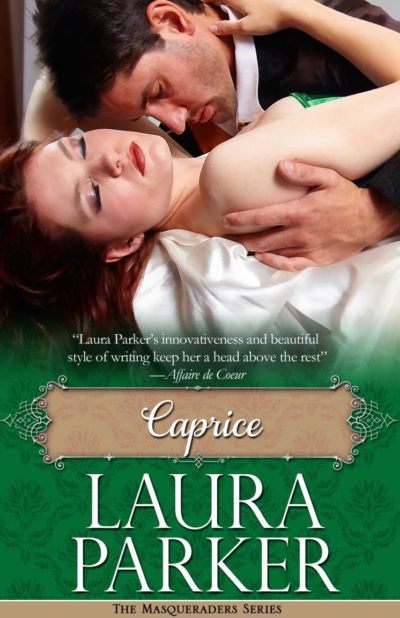 Caprice
The Masqueraders Series - Book One
The Masqueraders Series, #1
In both love and war, engaging the enemy is a dangerous game.
"Laura Parker's innovativeness and beautiful style of writing keep her a head above the rest." — Affaire de Coeur
Hadrian Blackburne returns to London from the war. Thought to have been killed at Waterloo, he soon wishes he were, instead bored to tears by his unruly family and his role as Lord. He misses the spy games of Persia, where he was a master of intrigue. His attention is snared by a ravishing, veiled beauty who has swept into London's Regency society on a cloud of exotic mystery.
Who is this Princess Sultana el Djemal? Hadrian must know, even if playing the game of love could cost him body and soul.
Clarissa Willoughby's harmless deception was designed to open doors for a widow ready to shed her weeds. Once Hadrian begins his pursuit of "Sultana," his passionate seduction makes Clarissa jealous of the exotic temptress she herself created. The game of love becomes more perilous than way when Clarissa sets out to win Hadrian's heart, battling again his suspicions and her alter ego.
"A most inventive storyteller." — RT Book Reviews
Parker, Laura