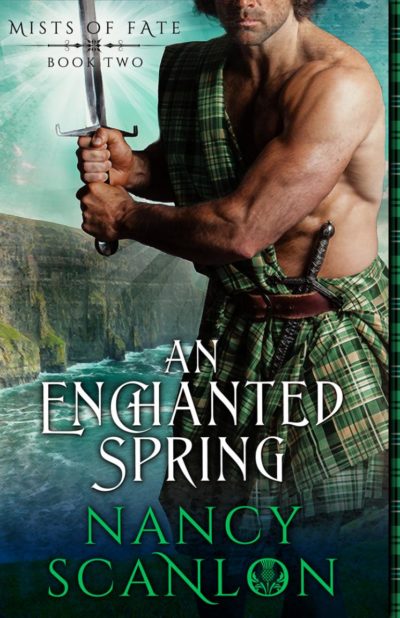 An Enchanted Spring
Mists of Fate - Book Two
Nancy Scanlon continues the timebending saga she began with The Winter Laird, pulling heroes and villains alike through the portals of time to help save their futures and find their truest loves.
A time travel accident has left Aidan MacWilliam, younger brother of a medieval Irish laird, trapped in the future. Though he's become a successful entrepreneur in the twenty-first century, Aidan still can't banish thoughts of the world he left behind. In search of distraction, he heads to New York to scout a PR person for his cousin's matchmaking firm, Celtic Connections.
Emmaline Perkins might be the perfect candidate. A PR expert and closet medievalist, Emma has always put work before her social life. When a breathtakingly handsome man who looks like he stepped straight out of the Middle Ages proposes business, she struggles to keep her professional and personal lives separate.
Then Emma's ex-fiancé resurfaces, threatening Emma's livelihood, her home, and ultimately her safety. Aidan jumps to protect her and not just because she's good for business. He feels a primal need to defend the alluring young woman. But the question is not where she'll be safe, but when.
Scanlon, Nancy