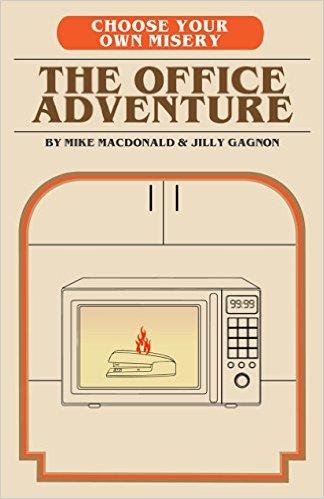 Choose Your Own Misery: The Office
Choose Your Own Misery, #1
You have endless choices…but few real options.
Hungover and stuck at a job you hate, will you show up for your big presentation, or duck out with Debby, the HR rep with an FDR fetish? Play the weird lump on your back for office-wide sympathy, or dive into an internet spiral that can only end in "ten kinds of cancer"? Tell someone about the weird genital-fondling that's happening at the crystal healer's, or just accept that this is the best substitute you'll find for love, today…or maybe ever?
From two comedy writers and former contributors to THE ONION comes a parody of a choose-your-own-adventure tale―the story of your soul-crushing existence. Having choices is great when you're a kid, but in the adult world, the only options are endless varieties of misery. It's okay, though. A life of adventure would require so many uncomfortable sleeping situations. Besides, you have dental. Keep reminding yourself about the dental.
"Hell, the only reason for going to work is to goof-off reading Jilly Gagnon's and Mike MacDonald's book, Choose Your Own Misery: The Office!"—E. Jean Carroll, former writer for SNL
"Choose Your Own Misery: The Office [is] the most addictive, clever, and honestly hilarious decision tree you've ever read."—Zack Bornstein, segment director at Jimmy Kimmel Live
"Sorry, I've been spending every waking hour lost in your maddening madcap narrative labyrinth. I'll try to send a blurb for the book by the deadline!"—Jamie Brew, Associate Editor at Clickhole
"It's time for you to choose your own miserable adventure, just like you do every day of your miserable life, but now in hilarious book form!"—Nate Dern, Head Writer for Funny or Die
"Oh, how I laughed at this droll little book. Then, slowly but irreversibly, it filled me up with dread."—Jesse Andrews, author of the NY Times Bestselling ME AND EARL AND THE DYING GIRL
"Choose Your Own Misery: The Office is a bittersweet, brutal, and frequently hilarious twist on the childhood classics."—NERDIST.COM
"[Choose Your Own Misery: The Office] is one of the few books I've made sure to bring with me to show others when going out… even though filled with miserable and sometimes darker choices, [it] is definitely one of the funniest books I've read lately."—TECHAERIS
"In their rip-roaringly funny book, Choose Your Own Misery: The Office, the two Onion alums make a dark and decidedly adult play on beloved childhood "choose your own adventure" novels…[Choose Your Own Misery] may be the funniest book released this year."—NEWSWEEK
This book is a parody. It was not authorized by Chooseco, the publisher of Choose Your Own Adventure. Choose Your Own Adventure is a registered trademark of Chooseco LLC.
MacDonald, Mike; Gagnon, Jilly