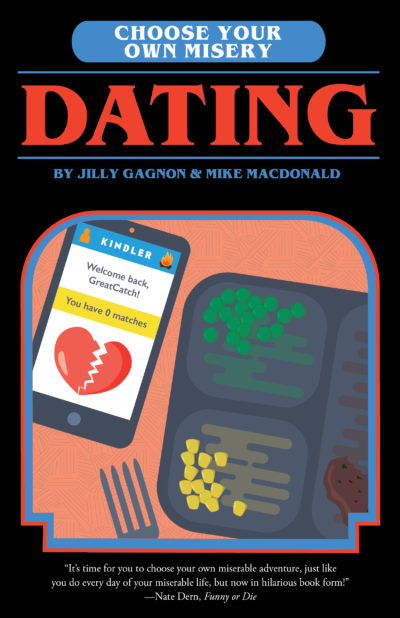 Choose Your Own Misery: Dating
Choose Your Own Misery, #3
From The Onion alum writers Mike MacDonald and Jilly Gagnon comes a hilarious choose-your-own-path story to that will save you hours of suffering on Tinder.
The only thing worse than getting back on the dating horse? The brutal loneliness of perpetual singledom.
That's why you're putting in the effort to find your soulmate…or at least someone to warm your bed for a night. Playing as one of two characters, you get to choose just how bad your dating life gets. Will you head to a high school party or hitch your wagon to a Steve Urkel impersonator? Dabble in the painfully shallow depths of sexualizing your arm wound, or up the intensity of your first date by entering an underground fight club? Try to relive the romance of Harold and Maude, but with more roofies and an ominous burial plot in Maude's backyard?
From the writers who brought you the hilarious parodies Choose Your Own Misery: The Office and Choose Your Own Misery: The Holidays comes the oldest form of misery in the book: the self-prostitution that is dating.
"Oh, how I laughed at this droll little book. Then, slowly but irreversibly, it filled me up with dread." —Jesse Andrews, New York Times bestselling author of Me and Earl and the Dying Girl