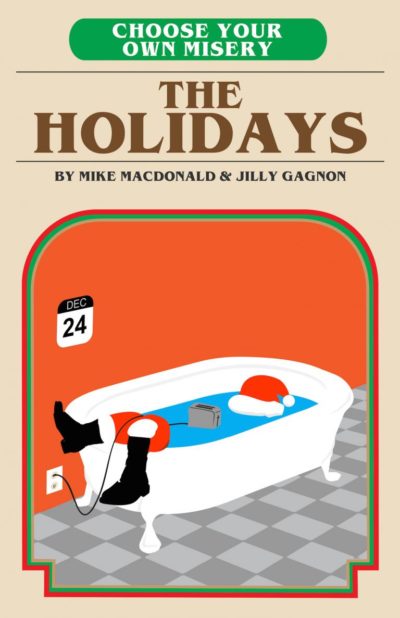 Choose Your Own Misery: The Holidays
Choose Your Own Misery, #2
From The Onion alum writers Mike MacDonald and Jilly Gagnon comes a hilarious choose-your-own-path story to ruin your holiday spirit.
"Bah! Humbug! An ideal choice for holiday haters and readers who enjoy David Sedaris's hysterically funny take, Holidays on Ice."—Library Journal
This is the year you're going to do it: you're going to avoid Christmas completely!
…or you were, until your island getaway got washed out by a hurricane. Now you have to choose: should you spend the holiday with your shrewish sister and her Europhile husband, or endure your new girlfriend's family for a week? Help chop down a tree even though it might throw out your back, or endure the icy judgment of a woman who thinks only children and pussies help bake cookies? Jet off to the glamorous slums of Kingston, Jamaica, or accept the offer of a ride from a man who never stops smiling…and is probably going to turn you into a skin suit?
From the writers who brought you the hilarious parody Choose Your Own Misery: The Office comes a second helping of misery with a festive twist. Christmas is full of fun surprises for kids, but for adults, it's just an endless series of aggressive crowds, overwhelming credit card debt, and pretending to like the people you're forced to spend it with.
Once you unwrap all the holiday misery hiding in these pages, the blackness of your heart will rival any lump of coal.
"I played this book thirty times and the happiest ending I got was one where I got to eat turkey with a badly burned hand. Seems about right. Hilarious every time."—Ryan North, New York Times bestselling author of Romeo And/Or Juliet
MacDonald, Mike; Gagnon, Jilly