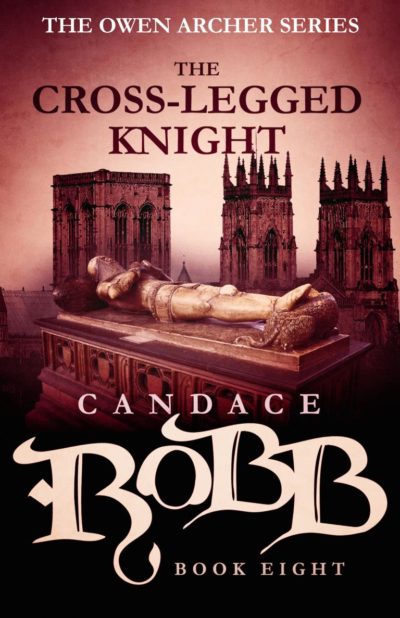 The Cross-Legged Knight
The Owen Archer Series - Book Eight
The Owen Archer Series, #8
York, 1371. The Bishop of Winchester, William of Wykeham, is tasked with bringing home the remains of the powerful patriarch of the Pagnell family. But Wykeham's arrival is fraught with tension. The Pagnells are reeling from their father's death and they suspect Wykeham of having a hand in it. Days after his arrival, his townhouse burns to the ground—a terrible accident, or a threat.
When the charred body of a woman is found in the remains, Wykeham fears for his reputation and his life. The Archbishop of York, John Thoresby, turns to the one-eyed spy, Owen Archer, for help.
Archer, preoccupied by his wife's tragic miscarriage, reluctantly agrees to investigate the case. But the attempt on Wykeham's life runs deeper than anyone suspects. This tangled web includes knights, bishops, and even kings. When Archer discovers that the dead woman is a midwife known to all of York, including his wife, this dangerous plot is brought to his very home.
"Lively, endearingly detailed…a convincing plot and a believable cast of characters."—KIRKUS
"A nice addition to the series, with Robb's good character development and domestic detail…"—LIBRARY JOURNAL
"Owen Archer returns to solve another medieval mystery grounded in the intrigue spawned by the bitter rivalry among King Edward III's sons…Once again, Robb provides the reader with an evocative and suspenseful whodunit thoroughly bolstered by a wealth of authentic historical detail."—BOOKLIST
Robb, Candace