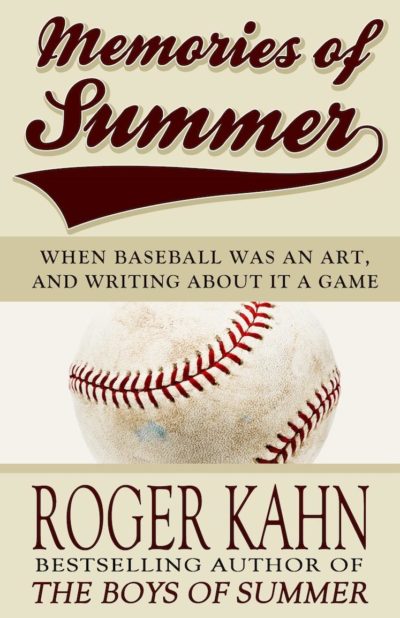 Memories of Summer
When Baseball Was an Art, and Writing about it a Game
Acclaimed baseball writer and bestselling author Roger Kahn gives us a memoir of his Brooklyn childhood, a recollection of a life in journalism, and a record of personal acquaintance with the greatest ballplayers of several eras.
His father had a passion for the Dodgers; his mother's passion was for poetry. Somehow, young Roger managed to blend both loves in a career that encompassed writing about sports for the NEW YORK HERALD TRIBUNE, SPORTS ILLUSTRATED, the SATURDAY EVENING POST, ESQUIRE, and TIME. Kahn recalls the great personalities of a golden era—Leo Durocher, Mickey Mantle, Willie Mays, Jackie Robinson, Red Smith, Dick Young, and many more—and recollects the wittiest lines from forty years in dugouts, press boxes, and newsrooms.
Often hilarious, always precise about action on the field and off, MEMORIES OF SUMMER is an enduring classic about how baseball met literature to the benefit of both.
Praise for Roger Kahn:
"As a kid, I loved sports first and writing second, and loved everything Roger Kahn wrote. As an adult, I love writing first and sports second, and love Roger Kahn even more." —Pulitzer Prize winner, David Maraniss
"He can epitomize a player with a single swing of the pen." —TIME magazine
"Roger Kahn is the best baseball writer in the business." —Stephen Jay Gould, New York Review of Books
"Kahn has the almost unfair gift of easy, graceful writing." —BOSTON HERALD
Kahn, Roger