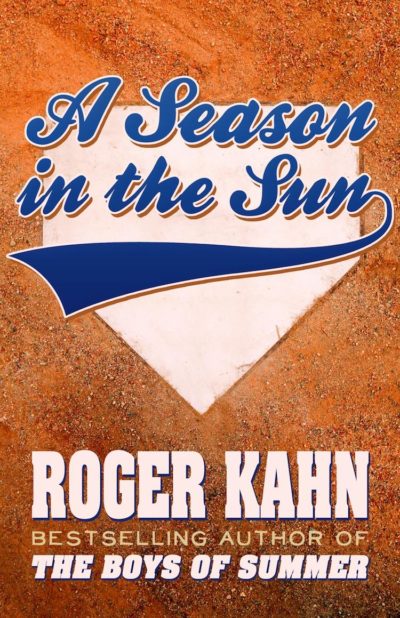 A Season in the Sun
For one full baseball season in 1976, Roger Kahn returned to his favorite sport to see how it was doing, talk to some of its practitioners and veterans, and try to find out whether it still the same old magic.
His search led him from small college teams in rural Arkansas, whose every member hopes to make the Majors, to Houston for a look at the financial disaster of the Astros and the Astrodome, and to Los Angeles to explore the modern miracle of Walter O'Malley's Dodgers. It brought him interviews with old friends like restaurateur Stan Musial, boat salesman Early Wynn, and the courageous baseball maverick Bill Veeck, now owner of the Chicago White Sox. He was able to observe a superb New England Class A team that plays to empty stands because of TV, and the phenomenon of baseball enthusiasm on Roberto Clemente's Caribbean island. Finally, it gave him the chance to get to know the incomparable Johnny Bench and to spend part of the 1976 Yankees-Reds World Series in the company of the Series' most valuable player.
A SEASON IN THE SUN is more than a book about baseball. Like Roger Kahn's classic THE BOYS OF SUMMER, it is a warm and affectionate evocation of small-town and big-town America.
Praise for Roger Kahn:
"As a kid, I loved sports first and writing second, and loved everything Roger Kahn wrote. As an adult, I love writing first and sports second, and love Roger Kahn even more." —Pulitzer Prize winner, David Maraniss
"He can epitomize a player with a single swing of the pen." —TIME magazine
"Roger Kahn is the best baseball writer in the business." —Stephen Jay Gould, New York Review of Books
"Kahn has the almost unfair gift of easy, graceful writing." —BOSTON HERALD
Kahn, Roger