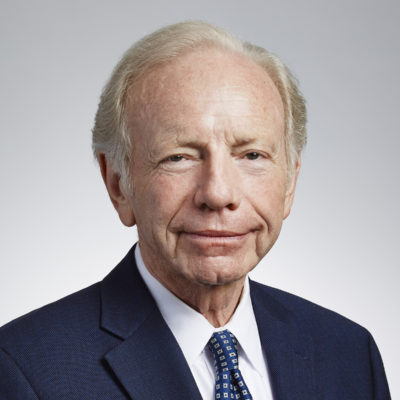 Senator Joseph I. Lieberman
Senator Joseph I. Lieberman served 24 years in the United States Senate, representing the state of Connecticut, and was the Democratic Vice-Presidential nominee in 2000. He is honorary national co-chair of No Labels, an American political organization composed of Republicans, Democrats and Independents whose mission is to "usher in a new era of focused problem solving in American politics." He is also co-chair of the American Enterprise Institute's American Internationalism Project and the Bipartisan Commission on Biodefense while serving on the Board of Trustees for The McCain Institute for International Leadership, the Board of Trustees for the Institute for the Study of War, and the Board of Directors of the Center for a New American Security.
During his tenure, Senator Lieberman helped shape legislation in virtually every major area of public policy and served in many leadership roles, including as chairman of the Committee on Homeland Security and Government Affairs.
He is currently senior counsel at the law firm Kasowitz, Benson, Torres where he applies the investigative skills he honed as United States Senator and Attorney General of the State of Connecticut to represent clients in independent and internal investigations and advise them on a wide range of public policy, strategic and regulatory issues.