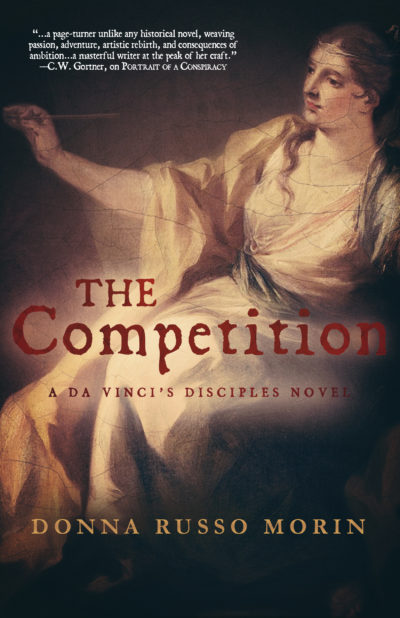 The Competition
A Da Vinci's Disciples Novel
Donna Russo Morin returns with a follow-up to Portrait of a Conspiracy, called "a page-turner unlike any historical novel, weaving passion, adventure, artistic rebirth, and consequences of ambition," by C.W. Gortner.
In a studiolo behind a church, six women gather to perform an act that is, at once, restorative, powerful, and illegal. They paint. Under the tutelage of Leonardo da Vinci, these six show talent and drive equal to that of any man, but in Renaissance Florence they must hide their skills, or risk the scorn of the city.
A commission to paint a fresco in Santo Spirito is announced and Florence's countless artists each seek the fame and glory this lucrative job will provide. Viviana, a noblewoman freed from a terrible marriage and now free to pursue her artistic passions in secret, sees a potential life-altering opportunity for herself and her fellow female artists. The women first speak to Lorenzo de' Medici himself, and finally, they submit a bid for the right to paint it. And they win.
But the church will not stand for women painting, especially not in a house of worship. The city is not ready to consider women in positions of power, and in Florence, artists wield tremendous power. Even the women themselves are hesitant; the attention they will bring upon themselves will disrupt their families, and could put them in physical danger.
All the while, Viviana grows closer to Sansone, her soldier lover, who is bringing her joy that she never knew with her deceased husband. And fellow-artist Isabetta has her own romantic life to distract her, sparked by Lorenzo himself. Power and passion collide in this sumptuous historical novel of shattering limitations, one brushstroke at a time.