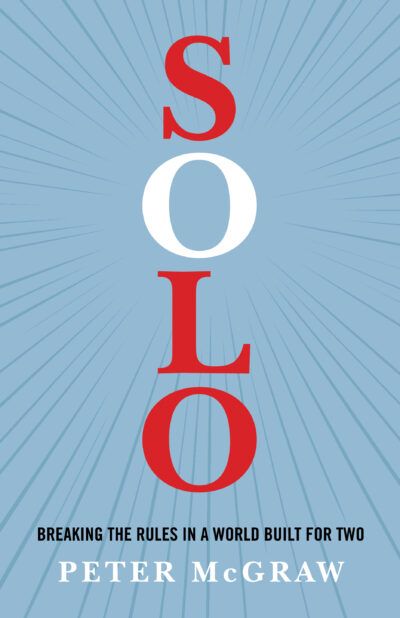 Solo
Breaking the Rules in a World Built for Two
Single isn't what it used to be. 

In Solo, behavioral economist Peter McGraw, dispels the myth of the sad, unhappy single to show readers how they can join the growing ranks of Solos, a group that accounts for nearly 30% of American adults, who are intentionally building rewarding, fulfilling, and joyful lives outside of romantic relationships.
In the midst of friendship and sex recessions, online dating burnout, and rising relationship standards, more Americans than ever will spend their lives single-many proudly so. In Solo, Peter McGraw combines his personal experience with his original research to unpack the growing cohorts of thriving singles to examine how this group has managed to create satisfying and colorful lives, often in ways that surpass the happiness of their coupled peers.
While many books for singles focus on methods for finding a partner or preach a begrudging acceptance of singledom, Solo celebrates all that a single life can be; joyful, social, fulfilling, and rewarding. McGraw's advice focuses on how readers can lead full, thriving lives outside of convention through the pursuit of purpose and connection. While a strong foundation is vital for those choosing to live alone, the building blocks to a gratifying life are equally integral to those in relationships who might find themselves disconnected from life at large. Because ultimately, all of us are responsible for building meaningful, fulfilling lives for ourselves.