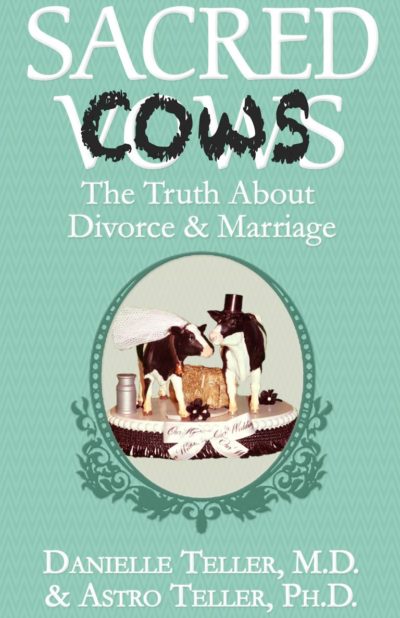 Sacred Cows
The Truth About Divorce and Marriage
Astro Teller currently oversees Google[x] and Danielle Teller is a physician specializing in the fields of intensive care and lung medicine. Together, they bring a fresh and startling perspective on marriage and divorce in SACRED COWS.
Drs. Astro and Danielle Teller know better than most that finding the right partner in life doesn't always happen the first time around. Through their own divorces they learned how widely held cultural assumptions and misinformation that nobody thinks to question—what they refer to as "sacred cows"—create unnecessary heartache for people who are already suffering through a terrible time.
Do you think, for example, that the divorce rate in the United States is rising? Or that children are harmed by divorce? Most people do, but it turns out that neither of these notions is supported by the data. Combining the rigor that has established them as leaders in their respective fields along with a dose of good-natured humor, the Tellers ask readers to take a fresh look at seven common sacred cows: the Holy Cow, the Expert Cow, the Selfish Cow, the Defective Cow, the Innocent Victim Cow, the One True Cow, and the Other Cow. This is not a book that is "for" marriage or "for" divorce, but "for" the freedom to decide how to live most honestly and happily either as part of a couple or a single person.
In the same way that Esther Perel's bestselling MATING IN CAPTIVITY gave couples a fresh perspective on their married life, so SACRED COWS invites readers to question assumptions and conventional wisdom. It offers a smart, insightful, and sympathetic view for those in a marital crisis, marriage counsellors, or anyone looking to gain a fresh perspective on one of our most cherished and misunderstood institutions.
Teller, Danielle; Teller, Astro