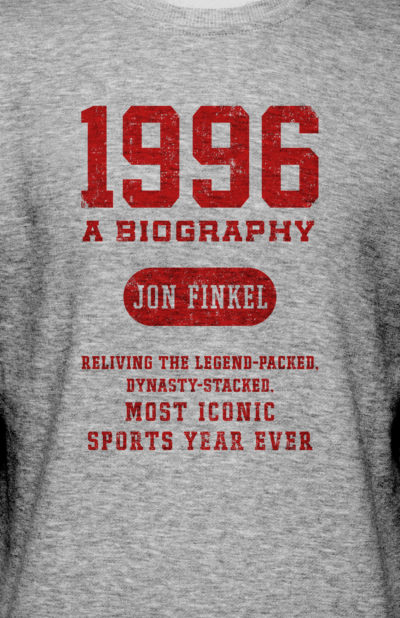 1996
A Biography — Reliving the Legend-Packed, Dynasty-Stacked, Most Iconic Sports Year Ever
On its 25th anniversary, relive the legend-stacked, dynasty-packed, most iconic sports year ever with the athletes, teams, and more whose collective influence affected every aspect of a generation of sports and pop culture fans—Jordan, Shaq, Iverson, Kobe, Gretzky, Tiger, Griffey, Jeter, Tyson, the Cowboys, the Yankees, the Bulls, The Rock, Stone Cold, Kentucky, Florida, Agassi, Graf, the Williams Sisters, Happy Gilmore, Space Jam, the Olympics in Atlanta, Muhammad Ali, the Magnificent Seven and more!
Take a rollicking tour through the sports world of 1996, when debuts, comebacks, movies, and pop culture crossover changed the sports landscape forever. From college to the Olympics to the pros; from the NBA to golf, tennis, and boxing, 1996 was home to athletes and teams who were among the best marketed, most beloved, colorful, and greatest in history. In 1996: A Biography, sportswriter and author Jon Finkel uncovers the stories behind the stories while interviewing a who's who of '96ers to reveal in thrilling detail how their collective influence on sports and pop culture still resonates to this day.
For those of us who remember when Iverson, Kobe, The Rock and Stone Cold, the MLS and the WNBA all debuted; when the US Women's Olympic Gymnastics Team—the Magnificent Seven—won gold for the first time in history; when Mike Tyson and Magic Johnson made their comebacks; when MTV's Rock n' Jock, Michael Jordan's Space Jam, and ESPN's Dan Patrick and Stuart Scott were the bomb; when the Fun 'n' Gun offense changed college football; when Ken Griffey Jr. ran for president (really! remember?); when Derek Jeter won Rookie of the Year, Favre marched to his first Super Bowl and Jerry Maguire had everyone saying "show me the money". . . . 1996 is a sports time machine you've got to take for a spin.