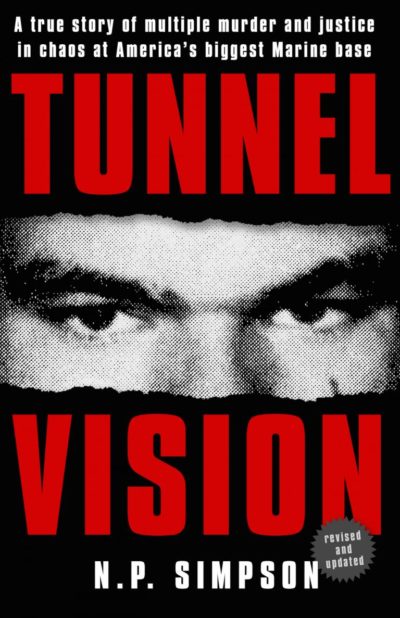 Tunnel Vision
A True Story of Multiple Murder and Justice in Chaos at America's Biggest Marine Base
Told in excruciating detail by reporter and author N.P. Simpson and edited by New York Times bestseller and True Crime legend, Jerry Bledsoe, Tunnel Vision is a chilling tale of triple murder like no other.
"N. P. Simpson's vivid prose plunges the reader into the politically fraught, self-contained world of a military base. A homicide investigation here is both similar to and completely different from anywhere else."—Linda Landrigan, editor, Alfred Hitchcock Mystery Magazine
A horrific crime that shook the largest Marine base in America quickly becomes much more than meets the eye in this meticulously researched account from N.P. Simpson. A family's life is in shambles when a mother and two children are found brutally murdered in their home.
To make matters worse, the prime suspect is their own relative.
Fifteen-year-old Butch Smith was a troubled teen. Despite being kicked out of school for his aggressive behavior, his family was fiercely loyal to him. During visits home while attending a camp for troubled boys, Butch lived a fairly normal life with his mother and two siblings in their duplex at Camp Lejeune. After returning home from a rare trip to New York with his aunt and cousins in tow, tragedy struck this unsuspecting family. In the dark of the night, his aunt, cousin and one of Butch's siblings were found savagely slain.
When clashing confessions point to Butch as a suspect, his life is changed forever.
From its portrayal of one young man's harrowing past, to the shocking murder that shook the North Carolina Supreme Court, Tunnel Vision is true crime reporting at its most gripping.
Simpson, N. P.