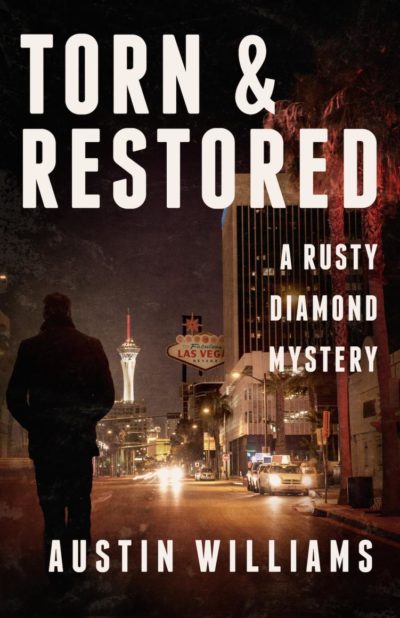 Torn & Restored
In this gripping last installment of Austin Williams' Rusty Diamond series, Rusty "The Raven" Diamond is beckoned back to Vegas to reconcile his sordid past in one final, decadent showdown—but will he make it out of Sin City alive?
When a mysterious box containing a greeting card, a sheet of textbook paper, three human teeth, and an adult index finger severed just above the knuckle arrives unannounced on Rusty "The Raven" Diamond's doorstep, he realizes he can no longer hide on the beaches of Maryland. Someone wants Rusty to pay for what he did years before, and if Rusty is going to survive, he'll need to take the fight Vegas.
Rusty was once the hottest act on the strip, a magician who commanded sell-out crowds for his death-defying act. But with bigger risks come bigger enemies, and it seems Rusty has made one of the most sizable the Nevada desert has to offer. A mobster-turned-politician with every resource available aims to not only close the curtain on Rusty, but make sure he pays dearly beforehand.
Rusty's final reckoning with his past will draw him into a trap that, even at his most Houdini-esque, he may not be able to escape. Taut, fast, and gripping at every turn, Torn & Restored builds to a spectacular denouement that will leave readers buzzing for days.