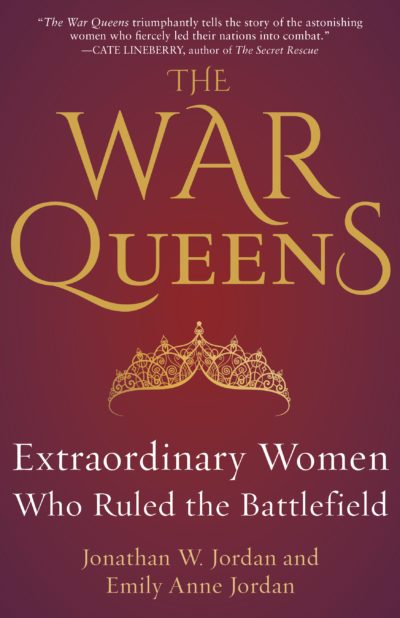 The War Queens
Extraordinary Women Who Ruled the Battlefield
Recently adapted into WAR QUEENS podcast hosted by authors Emily and Jon Jordan, featuring Game of Thrones star Nathalie Emmanuel. Now available on Apple, Spotify, Audible and all major listening platforms.
The ingenious wartime tactics of some of history's most powerful female leaders, from the stifling battlefields of ancient Egypt to the frigid waters off the Falkland Islands.
History's killer queens come in all colors, ages, and leadership styles. Elizabeth Tudor and Golda Meir played the roles of high-stakes gamblers who studied maps with an unblinking, calculating eye. Angola's Queen Njinga was willing to shed (and occasionally drink) blood to establish a stable kingdom in an Africa ravaged by the slave trade. Caterina Sforza defended her Italian holdings with cannon and scimitar, and Indira Gandhi launched a war to solve a refugee crisis.
From ancient Persia to modern-day Britain, the daunting thresholds these exceptional women had to cross—and the clever, sometimes violent ways in which they smashed obstacles in their paths—are evoked in vivid detail. The narrative sidles up to these war queens in the most dire, tumultuous moments of their reigns and examines the brilliant methods and maneuvers they each used to defend themselves and their people from enemy forces.
Father-daughter duo Jonathan W. and Emily Anne Jordan extoll the extraordinary power and potential of women in history who walked through war's kiln and emerged from the other side—some burnished to greatness, others burned to cinders. All of them, legends.