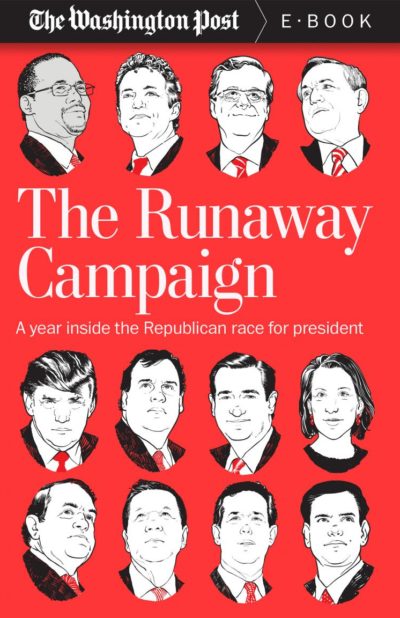 The Runaway Campaign
A Year Inside the Republican Race for President
The year 2015 will be remembered as one of the most bizarrely compelling and genuinely unnerving in the nation's modern political history.
One contender entered the race as the scion to a political dynasty. Another entered as a reality television star. There were the religious factions, the Tea Partiers, even a moderate or two. The Republican primary quickly bloated to seventeen candidates. But where the establishment had chosen a few frontrunners behind which it would select the eventual nominee, the public and the press had other ideas.
Donald Trump went from punchline to poll-leader, even as other candidates dismissed him and millions condemned his incendiary rhetoric. Now, as the primary season heats up and people start casting their votes, the field and the country wait to see whether Trump's populist appeal will translate to the nomination, and how the Republican party will adapt to its strange new reality.
The Washington Post brings to readers the wild story of how Republicans got to where they are today, told primarily through the impressions, recollections, and analyses of those who lived it personally — the Republican candidates. This eBook is based almost entirely on on-the-record interviews with most of the major candidates — some of whom fell away — and with their advisers and other strategists. It is the story of a remarkable year in American politics.
The Washington Post