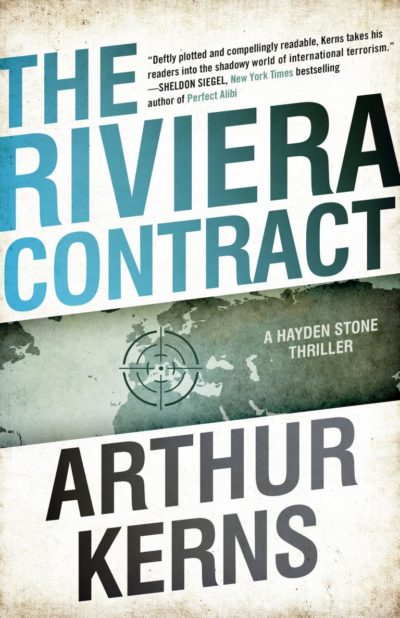 The Riviera Contract
A Hayden Stone Thriller
Hayden Stone Thrillers, #1
"Deftly plotted and compellingly readable, Kerns takes his readers into the shadowy world of international terrorism. Hayden Stone is a character worth rooting for, and Arthur Kerns is a talented storyteller. I'm looking forward to a movie and a sequel. A stellar debut." —Sheldon Siegel, New York Times bestselling author of Perfect Alibi

"THE RIVIERA CONTRACT is a modern thriller that echoes today's headlines. Populated with fascinating characters and tightly plotted with twists and turns that will keep you guessing until the end, this first-rate debut novel plays out along the French Riviera and digs deeply into the inner workings of counter-intelligence and international terrorism. A must read." —D.P. Lyle, Macavity-winning and Edgar- and Agatha-nominated author of the Dub Walker Thriller Series
"Arthur Kerns draws from a career in counterintelligence and counterterrorism to write nonstop action and create an irrepressible hero in Hayden Stone. The setting is beautiful but the risks enormous and Stone either makes the right decisions quickly or dies. If he dies, so will many others and as the plot escalates and builds toward that moment the tension rises, and then rises again." —Kirk Russell, bestselling author of the Inspector Ben Raveneau mystery, Counterfeit Road

In early 2002, six months after the World Trade Center attack, Hayden Stone who took early retirement from the FBI, is working for the CIA. On his last assignment to Afghanistan a colleague is killed and Stone blames himself for his death. A friend in the upper ranks of the CIA offers him an assignment to the South of France. Stone accepts, thinking this is exactly what he needs to get his life back on even keel: French life on the Cote d'Azur. Well, he's in for a surprise. He has little time for the Mediterranean ambiance, as two terrorists, acting separately, attempt to murder him. Meantime, Stone meets an old love, a contessa, who he had seduced and abandoned years before.
Through a series of setups and encounters, Stone learns that a brutal Middle Eastern terrorist is in Provence to deliver a strain of the Ebola virus to major U.S. cities. At the same time, the CIA and French intelligence have targeted a seriously ill al Qaeda functionary who is seeking medical attention in Nice. Complicating matters still, a Saudi prince and his son-in-law on a yacht off Villefranche are assisting this al Qaeda figure. They lease the contessa's palace so that, without her knowledge, doctors can administer to the functionary. Stone romances the contessa who loves him, but doesn't trust him and with cause, for he also has become fond of a young French researcher, who secretly works for French Intelligence.
Stone certainly has his hands full.
Kerns, Arthur