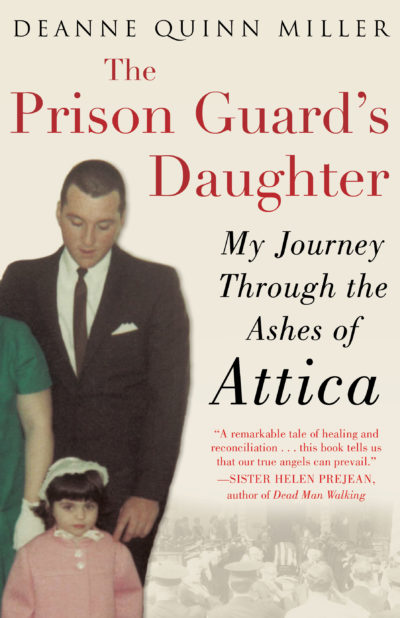 The Prison Guard's Daughter
My Journey through the Ashes of Attica
On the 50th anniversary of America's deadliest prison riot comes a prison-guard daughter's quest to uncover the truth about her father's murder during the uprising—a story of crossing racial divides, befriending inmates and correctional officers alike, and challenging the state to reveal and pay for its malfeasance.
On September 13, 1971, armed troops and corrections officers at the Attica Correctional Facility in upstate New York slaughtered 29 rioting prisoners and 10 hostages in a hail of gunfire. Negotiations for a peaceful resolution had stalled. The sticking point was the prisoners' final demand: amnesty for their murder of correctional officer William "Billy" Quinn, committed four days earlier during the takeover.
Deanne Quinn Miller was 5 years old when her father was killed, the only Attica employee to die at the hands of inmates. For nearly 30 years, authorities attempting to protect law enforcement fed Deanne Quinn Miller lies about Attica, its aftermath, and her father's death. Here she tells of her relentless quest for truth and justice—for herself, her family, and an entire community.
After the state settled a long-standing lawsuit with injured Attica inmates by awarding them $12 million, Miller co-founded the Forgotten Victims of Attica and succeeded in getting the same compensation for the hostages and their families—who had received no support from the state.
But the real win was the journey that crossed great divides: befriending infamous Attica prisoner Frank "Big Black" Smith, meeting Richard Clark and other inmates who tried to carry her father to safety after his beating, and learning what life was like for all of the people—prisoners and prison employees alike—inside Attica. As Miller lays bare the truth about her father's death, the world inside Attica, and the state's reckless raid and coverup, she conveys a narrative of compassionate humanity and a call for prison reform.