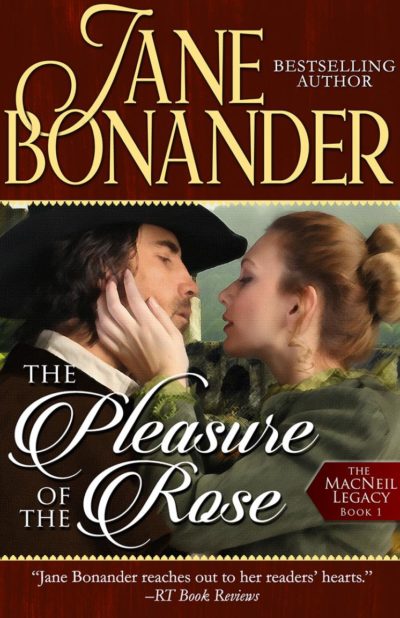 The Pleasure of the Rose
The MacNeil Legacy - Book One
Long a master of the historical and the heartfelt, Jane Bonander pens a sweeping Scottish romance, perfect for readers of Mary Balogh.
"Jane Bonander reaches out to her readers' hearts." —RT Book Reviews
As Fletcher MacNeil sat in a jail cell, the last thing he expected was a Scottish solicitor bearing news of an inheritance. Fletcher, half Comanche and half Scottish, is the only surviving heir to Castle Sheiling and a fortune beyond his wildest dreams. But to claim it, he must escape his current predicament and travel across the ocean—to a world of loyal clans and kinsmen where Fletcher's very appearance marks him as outsider.
Rosalyn Geddes, housekeeper of Sheiling, is relieved to hear that the new earl of Kintyre has been located in America. But the last thing she expected was the mysterious, darkly handsome man who appears on the castle doorstep. Rosalyn cannot believe he is a MacNeil, let alone the new earl. But there's something about this man—a power and magnetism that draws her in.
Fletcher learns that his inheritance comes with a caveat—he must produce an heir within one year's time or the fortune goes to a rogue cousin of the late earl. A marriage of convenience is proposed, and Roz reluctantly agrees. What begins as purely a business transaction blossoms into something more. Roz begins to feel herself open up to the possibility of love, but the question of whether Fletcher will leave her once he's met the terms of the will continues to loom over their relationship. Can they overcome Roz's tragic past and Fletcher's uncertain future?
Bonander, Jane