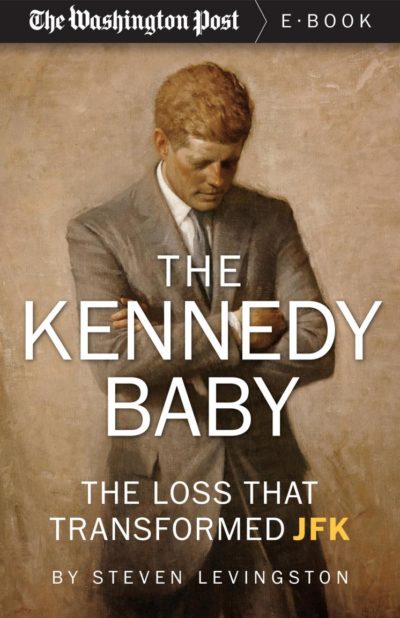 The Kennedy Baby
The Loss That Transformed JFK
A sensitive portrait of how a profound tragedy changed one of America's most prominent families.
"A warm, intimate, intriguing look at a less-well known side of JFK—as family man. Judiciously but movingly, Steven Levingston shows us the cool and ironic Kennedy becoming a tender husband and father in the last months of his life." — Evan Thomas, author of ROBERT KENNEDY: HIS LIFE
Their marriage is the subject of countless books. His presidency has been pored over minute by minute by historians. They lived their lives in the public eye and under a microscope that magnified all of their flaws, all of their scandals, all of their tragedies. Now Steven Levingston, nonfiction editor at the Pulitzer Prize-winning Washington Post, presents a devastating story in unprecedented detail, about a child John and Jackie Kennedy loved and lost.
On August 7, 1963, heavily pregnant Jackie Kennedy collapsed, marking the beginning of a harrowing day and a half. The doctors and family went into full emergency mode, including a helicopter ride to a hospital, a scramble by the President to join her from the White House, and a C-section to deliver a baby boy, Patrick Bouvier Kennedy, five and a half weeks early with a severe respiratory ailment. The baby was so frail he was immediately baptized.
Over the next thirty nine hours the nation watched and waited. The vigil was spread across the front pages of the newspapers; the country watched the life of Patrick unfold on the evening news. Within the Kennedy family, the drama was transforming the president and his marriage. Both he and Jackie, long known for their cool exteriors, were brought together by a shared sadness and love as they never had been. Although baby Patrick succumbed after 39 hours, his father was born anew through the tragedy.
THE KENNEDY BABY is a vivid drama of a national tragedy and private trauma for the Kennedy family, taking readers through the birth, the ordeal in the hospital, and JFK's personal growth through his hardship and the progress toward a changed marriage – a breakthrough all the more acute in light of the tragedy that loomed only months away.
The Washington Post