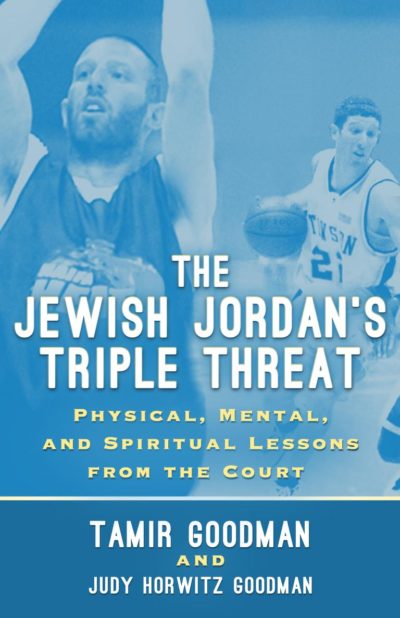 The Jewish Jordan's Triple Threat
Physical, Mental, and Spiritual Lessons from the Court
Reminiscent of Phil Jackson's SACRED HOOPS, Tamir Goodman's Triple Threat explores physical, mental, and spiritual lessons, on and off the court.
Tamir Goodman was dubbed "The Jewish Jordan" by SPORTS ILLUSTRATED for the unorthodox combination of basketball prowess and devout faith that he brought with him onto the court as a top-ranked high school recruit, D-I and professional basketball player. Goodman's book features practical basketball training tips, strategies to contend with the mental side of the game, and game-like scenarios to demonstrate how this advice will pay off on the court.
The book also takes readers on a fascinating journey through Goodman's career, a highlight of which includes Goodman making history as the first Jewish player to play D-I and professional basketball while wearing a yarmulke and refraining from playing on the Jewish Sabbath.
By weaving the hands-on advice with the intriguing personal stories, Goodman examines the basketball fundamentals of shooting, ball-handling and passing from the physical, mental and spiritual perspectives and assigns each of these moves a deeper meaning. Goodman uses examples from his career to make the point that adding an individualized spiritual element to physical and mental training can help athletes take their game to the next level, while also helping them to identify and achieve meaningful success on the court and in life.
"The nickname 'Jewish Jordan' might roll off the tongue, but Tamir Goodman's journey to realize his basketball dreams was no breeze. I thoroughly enjoyed reliving all the twists and turns through HIS eyes—one of the finest sportsmen and ambassadors that our people have ever known—in this captivating book."
—Marc Stein, ESPN NBA Reporter
"… an inspiring book with expert basketball advice that is great for players of all levels."
—Omri Casspi, Small Forward for the NBA's Cleveland Cavaliers
"… a fascinating look at one man's talents on the court, in his soul, and with an ultimate higher purpose. This book is for anyone interested in the skills of serious sportsmanship and the nuances of living an integrated and rich religious life. Tamir takes the concept of athleticism as a meaningful pursuit to the highest and most profound level. What a wonderful, joyful and superbly elegant exploration into the worlds of sports, religion, and life's purpose."
—Mayim Bialik, Ph.D., CLEC, Actress—The Big Bang Theory
"As a DC area native, I have crystal clear memories of the Jewish Jordan phenomena and the national attention his story created. While he was obviously an exceptional basketball player, it was his unparalleled commitment to his faith that made him so impressive. This book is a refreshing look at what it takes to be successful on and off the court. It is a must read for all players and coaches. I couldn't put it down."
—Alan Stein, Professional Basketball Strength & Conditioning Coach
"I have had the honor and privilege of watching Tamir Goodman conduct a basketball camp for children, so I have seen him put these words into action. For all the wonderful advice included in Triple Threat, it is his combined love affair with basketball and Judaism, and his spiritual devotion to both that stands out for me. His playing career was far too short, but his passion for his game—and his God—endures."
—Mary Schmitt Boyer, sportswriter and President of the Professional Basketball Writers Association
Goodman, Tamir; Horwitz Goodman, Judy