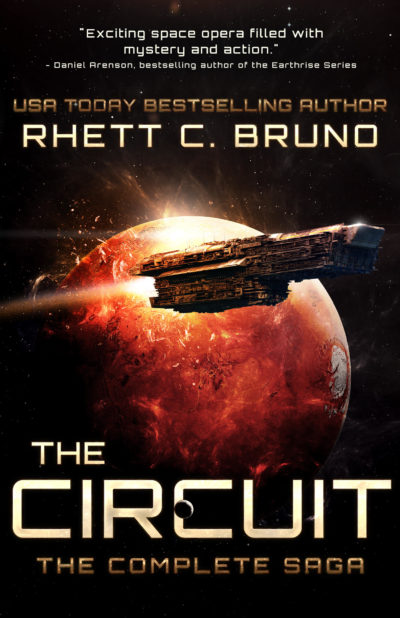 The Circuit: The Complete Saga
Perfect for fans of The Expanse! The complete Circuit Trilogy—three full-length science fiction novels collected in one epic book—features more than 750 pages of heart-pounding space opera intrigue.
"Bruno has crafted a complex, multi-dimensional story that combines the best of his genre with age-old truths—and quandaries—about humanity, politics, religion, family, and, yes, love." —Portland Book Review
Earth is a dying planet. To survive, humanity founds the Circuit, a string of colonies across the solar system, dedicated to mining resources vital to preserving what remains of mankind.
The New Earth Tribunal, a powerful religious faction, rises to rule the Circuit. They believe a Spirit within the Earth will one day appear and welcome humanity back home. Following a string of seemingly random attacks, the Tribunal suspects its mortal enemy, the Ceresians, have again rallied to challenge their absolute rule.
Join an unlikely band of would-be saviors—the Tribunal's best spy, a roguish Ceresian mercenary, a subservient android and a disgraced general—as they are drawn into a conspiracy destined to change the Circuit forever.
A new, sinister threat has arisen—and it plans to bring down the Tribunal once and for all.
"A hard-charging opener to a promising, if bloody, space-opera series." —Kirkus Reviews on The Circuit: Executor Rising
Contains the Complete Trilogy:
Executor Rising
Progeny of Vale
Earthfall
Bruno, Rhett C.