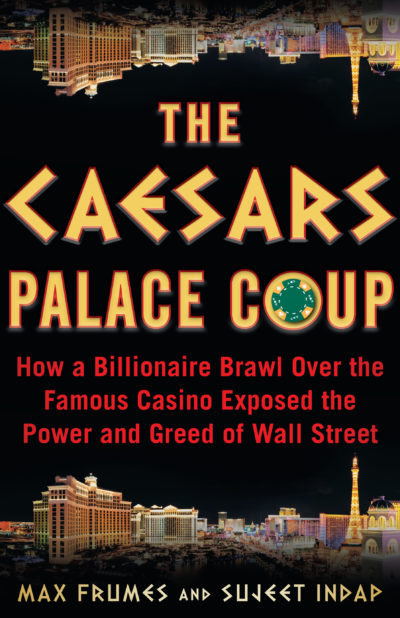 The Caesars Palace Coup
How A Billionaire Brawl Over the Famous Casino Exposed the Power and Greed of Wall Street
It was the most brutal corporate restructuring in Wall Street history. The 2015 bankruptcy brawl for the storied casino giant, Caesars Entertainment, pitted brilliant and ruthless private equity legends against the world's most relentless hedge fund wizards.
In the tradition of Barbarians at the Gate and The Big Short comes the riveting, multi-dimensional poker game between private equity firms and distressed debt hedge funds that played out from the Vegas Strip to Manhattan boardrooms to Chicago courthouses and even, for a moment, the halls of the United States Congress. On one side: relentless financial engineers Marc Rowan, David Sambur, and David Bonderman with their teams at Apollo Global Management and TPG Capital. On the other: superstar distressed debt investors Dave Miller and Ryan Mollett with their cohorts at the likes of Elliott Management, Oaktree Capital, and Appaloosa Management.
The Caesars bankruptcy put a twist on the old-fashioned casino heist. Through a $27 billion leveraged buyout and a dizzying string of financial engineering transactions, Apollo and TPG—in the midst of the post-Great Recession slump—had seemingly snatched every prime asset of the company from creditors, with the notable exception of Caesars Palace. But Caesars' hedge fund lenders and bondholders had scooped up the company's paper for nickels and dimes. And with their own armies of lawyers and bankers, they were ready to do everything necessary to take back what they believed was theirs—if they could just stop their own infighting.
These modern financiers now dominate the scene in Corporate America as their fight-to-the-death mentality continues to shock workers, politicians, and broader society—and even each other.
In The Caesars Palace Coup, financial journalists Max Frumes and Sujeet Indap illuminate the brutal tactics of distressed debt mavens—vultures, as they are condemned—in the sale and purchase of even the biggest companies in the world with billions of dollars hanging in the balance.