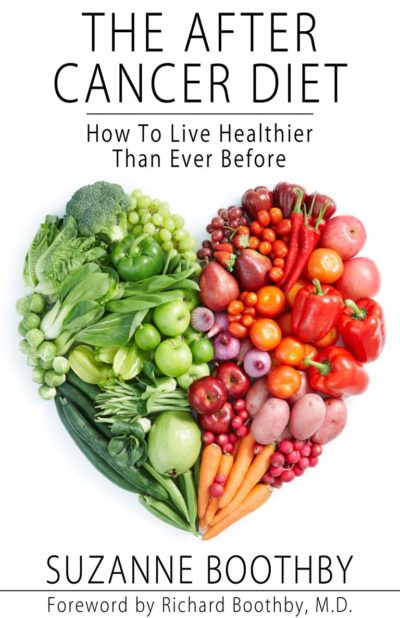 The After Cancer Diet
How To Live Healthier Than Ever Before
For the more than 11 million cancer survivors in the United States, a healthy lifestyle is essential after treatment. Cancer wellness writer Suzanne Boothby aims to provide this invaluable information to cancer survivors in her book, THE AFTER CANCER DIET.
In it, Suzanne shares what cancer survivors should eat, drink, and do to remain cancer-free for life, including sample recipes, regular exercise routines, detox programs, and overall advice for leading a healthy, happy life full of creativity and joy.
Foreword by Richard Boothby, M.D.
"In Suzanne Boothby's new e-book, The After Cancer Diet, she explores ways survivors can live a preventative lifestyle so they can continue to thrive. Along with her own research and nutrition coaching experience the book includes advice and insight from her father, Dr. Richard Boothby, a cancer physician for more than 25 years. They talk holistically about all the ways to maintain health including food, drinks, exercise, stress, happiness and detoxing." —Kerry Monaghan, Nutrition and Wellness Coach at Eleven Eleven Wellness Center
Boothby, Suzanne