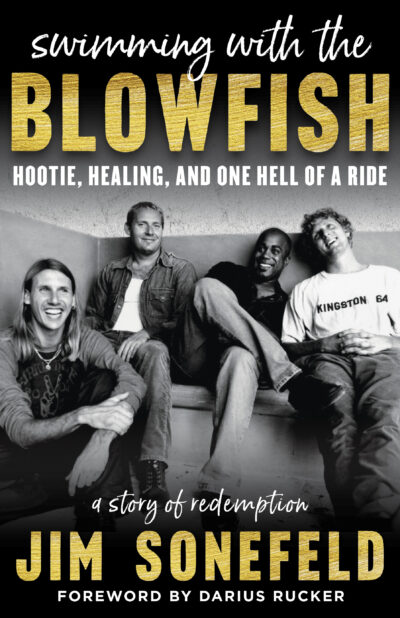 Swimming with the Blowfish
Hootie, Healing, and One Hell of a Ride
The ultimate front-row seat to the rise, fall, and rebirth of a band that was—for a time—the biggest in the world, Hootie & the Blowish, and Jim Sonefeld's shattering and redeeming spiritual path from addiction to recovery and a more fruitful life
For a time, there was no bigger band in the world than Hootie & the Blowfish—rock & roll's unexpected foil to the grunge music that dominated the early '90s airwaves. In Swimming with the Blowfish, Jim Sonefeld, drummer and one of the band's principal songwriters, reveals the inside story of the band's humble beginnings, meteoric rise, sudden fall, and ultimate rebirth—and in the telling he opens his heart to readers about addiction, recovery, and faith.
Hootie became ubiquitous in the '90s—their debut album Cracked Rear View was one of the best-selling in the history of rock music; they won two Grammy Awards; their live performances were played alongside the Dave Matthews Band, R.E.M., and even Willie Nelson and Neil Young; and they appeared at the biggest venues in the world. Though Jim enjoyed the perks that came with fame—the parties, the relationships, the money, the drugs and alcohol—eventually it all became a camouflage that hid a deeper spiritual malady. As his life was careening toward disaster, he reached out his hands to seek relief in twelve-step recovery, eventually settling into a loving, but by no means uncomplicated, homelife.
A book that encapsulates a band still beloved by legions of fans, Swimming with the Blowfish is much more—an unpretentious, emotional story of one man's spiritual path to a more fruitful life. Jim's journey is shattering, redeeming, and ultimately as comforting as your favorite flannel shirt.