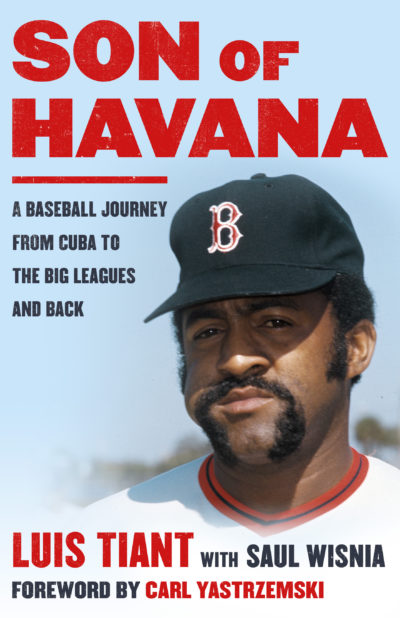 Son of Havana
A Baseball Journey from Cuba to the Big Leagues and Back
The improbable story of Luis Tiant―a living link to the earliest days of Fidel Castro's regime, a Boston Red Sox legend, and the most qualified 20th Century pitcher not yet enshrined in the Baseball Hall of Fame
Luis Tiant is one of the most charismatic and accomplished players in the history of the Boston Red Sox and all of Major League Baseball―a cigar-chomping maestro who was the heart and soul of Boston's title-contending teams in the 1970s. In his white polyester uniform, with a barrel-chested physique and a Fu Manchu mustache, Tiant may not have looked like the lean, sculpted aces he usually faced off against, but nobody was a tougher competitor on the diamond, and few were as successful. There may be no more qualified 20th-century pitcher not yet enshrined in the National Baseball Hall of Fame.
His big-league dreams came at a steep price―racism in the Deep South and the Boston suburbs, and nearly fifteen years separated from a family held captive in Castro's Cuba. But baseball also delivered World Series stardom and a heroic return to his island home after close to a half-century of forced exile. The man whose name―"El Tiante"―became a Fenway Park battle cry has never fully shared his tale in his own words, until now.
In Son of Havana, Tiant puts his huge heart on his sleeve and describes his road from fields strewn with rocks and rubbish in Havana to the pristine lawns of major league ballparks. Teammates, opponents, family, and media also weigh-in―including a foreword by fellow Red Sox legend Carl Yastrzemski and the first in-depth interview ever with Hall of Fame catcher Carlton Fisk on the magic behind these Boston batterymates.
Readers will share Tiant's pride when appeals by a pair of U.S. senators to baseball-fanatic Castro secure freedom for Luis's parents to fly to Boston and witness the 1975 World Series glory of their child. And readers will join the big-league ballplayers for their spring 2016 exhibition game in Havana, when Tiant―a living link to the earliest, scariest days of the Castro regime―threw out the first pitch.