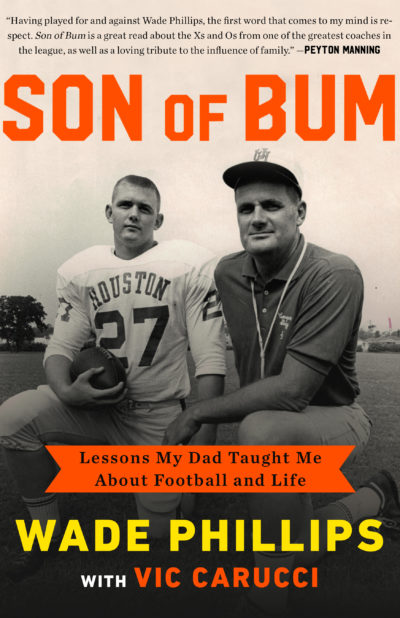 Son of Bum
Lessons My Dad Taught Me About Football and Life
Legendary football coach and Super Bowl champion with the Denver Broncos, Wade Phillips, recalls his life in football and memories of his father, NFL head coach Bum Phillips, in a book perfect for a Father's Day gift.
"Having played for and against Wade Phillips, the first word that comes to my mind is respect. SON OF BUM is a great read about the Xs and Os from one of the greatest coaches in the league, as well as a loving tribute to the influence of family."—Peyton Manning
In his memoir Son of Bum, decorated NFL coach Wade Phillips shows that the roots of his knowledge come from his father, Bum Phillips. A beloved character in NFL history, Bum taught Wade from the beginning that "coaching isn't bitching," as well as how to have perspective on the game during tough times. These are lessons that apply both on the field and off, and Wade has passed this wisdom down to his son, Wes Phillips, an NFL coach himself.
Known for his homespun, plain-talking ways, Wade is a groundbreaking coach who has long believed in using support and camaraderie—instead of punishment and anger—to inspire his players to be winners on and off the field. And though his defensive concepts are revolutionary, he would say they begin with common sense.
Son of Bum is more than one man's memoir—it's a story of family and football and a father who inspired his son.
Phillips, Wade; Carucci, Vic