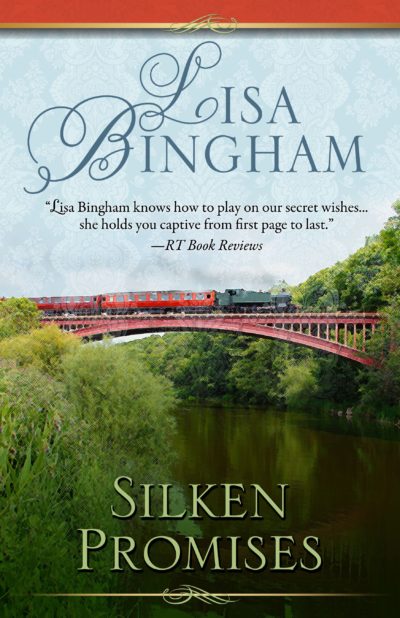 Silken Promises
In games that are as perilous as they are passionate, everyone plays for keeps.
"Exciting, humorous, and utterly delightful… This marvelously fast-paced, often funny, and yet tender romance is an ideal read for a cozy afternoon when you need to fill your heart with love and laughter."—Romantic Times
When Fiona McFee first meets the straight-laced deputy Jacob Grey, he is naked and bound in a field of foxtails. A con man's daughter through and through, Fiona leaves him there as he swears to never forget her. True to his word, Jacob tracks Fiona to Chicago years later, and he has an offer for her that she can't refuse: A full pardon for her and her father in exchange for her help in catching a counterfeiter. All she must do is pose as a wealthy British widow and play poker on a tourist train heading West.
With her freedom at stake, as well as another chance to outwit Jacob, Fiona must perfect her poker face as she gambles for the fate of her future. But neither she, nor Jacob, can ignore the undeniable attraction between them, and as the stakes of their deadly game soar to new heights, the thin line between inevitable danger and unyielding desire begins to blur.
Now both Fiona and Jacob have more to lose than either of them bargained for— their hearts.
"This novel will grip you as few thrillers can, pushing the reader to look for the unexpected. The action is exciting, the characters believable and compelling. You will not put this one down."—Rendezvous
"SILKEN PROMISES is Lisa Bingham at her talented best—a wonderful example of Americana. Filled with excitement, danger, and passion, it captures perfectly the spirit of late nineteenth century America, a land on the verge of being tamed by those who believe in honor and love." —The Paperback Forum
Bingham, Lisa