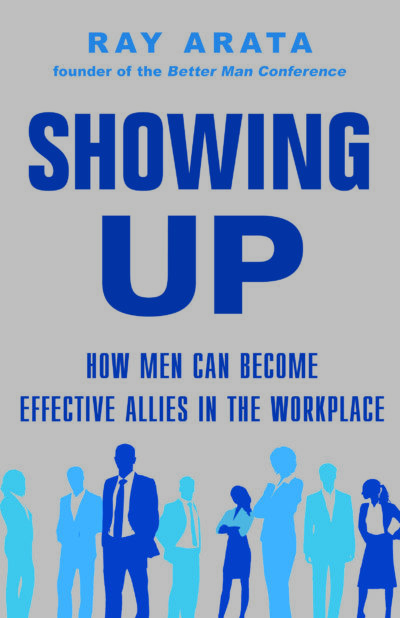 Showing Up
How Men Can Become Effective Allies in the Workplace
A Revolutionary Step-by-step Guide—by and for Men—to Ending Toxic Masculinity
Organizations worldwide are finally realizing the critical importance of diversity, equity, and inclusivity (DEI) for underrepresented people. Men are being called to enact heart-based leadership, increase diversity, bolster the bottom line, and create a culture so everyone in the workplace wins. The Times Up, Me Too, and Black Lives Matter movements have been wake-up calls to all of us, but perhaps mostly for men. And It's abundantly clear: the default model of masculinity isn't working for anyone. For a new and healthier infrastructure, for permanent and transformational shifts, we need a plan that includes men.
Enter Ray Arata, a world-recognized industry expert on engaging men in workplace DEI. The founder of the Better Man Conference and co-founder of Better Man Leadership, Arata argues that mainstream gender training and its focus on the avoidance of toxic masculinity is not enough.
In Showing Up, you'll discover the DIY method of heart-based leadership Ray has used with such companies as Verizon, Bloomberg, Moody's, Intel, Toyota, Hearst, and more—a male-modeled, real-solutions approach by and for men to increase diversity, bolster the bottom line, and create a culture so everyone in the workplace wins.
What you'll get from this book:
Embrace healthy masculinity as a cornerstone of inclusionary leadership
Identify unhealthy masculine behaviors in the workplace—like "mansplaining," "manterrupting," and "manopolizing"
Adopt behavior modifications to become an inclusive leader and ally for underrepresented groups
Incorporate specific language to use in healthy discussions
Leverage power and position to elevate underrepresented groups
Showing Up is a "how-to" book for men in organizations seeking to be better allies and leaders. The book also gives guidance to HR, Diversity & Inclusion Professionals on how to engage their men in diversity efforts.
Unlike other ally work which is often heady and data-driven, Arata provides a road map for supporting men to be authentic, vulnerable, and accountable including:
Six Principles of heart-based Leadership
Four steps of the Ally's Journey
The Better Man Pledge
The Five States of men in organizations
With stories that illuminate common missteps, followed by key learning sections, and deep-dive training exercises to support the development of allyship, Showing Up turns good intentions into specific actions you can implement immediately.