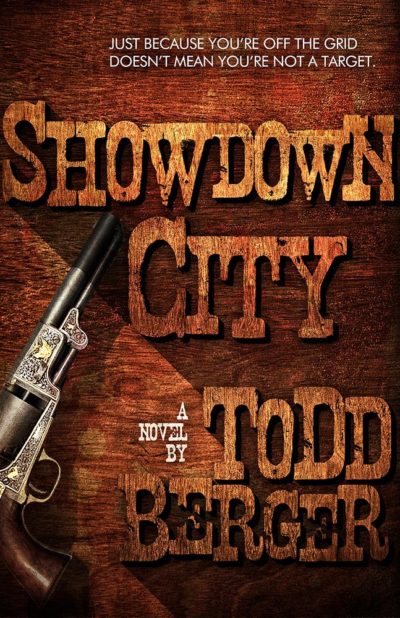 Showdown City
From It's A Disaster screenwriter Todd Berger comes "…a smart, witty, absurdist Western for the discerning reader." (Amber Benson, Buffy the Vampire Slayer)
"Wow. This is a cracker of a story."—David Cross, co-creator of Mr. Show and actor, Arrested Development
Just because you're off the grid doesn't mean you're not a target.
In this fiercely inventive novel of suspense and satire, Westworld by way of Django Unchained, a down-on-his-luck helicopter pilot named Huey Palmer finds himself hired by a small cadre of treasure hunters who set out into the Nevada desert to find a gun. It's not just any gun that eccentric billionaire Ernie Swords wants, it's a long-lost antique, one with a story worth a fortune, and Swords has the money and the means to get it.
Where Huey and his cohorts soon find themselves, however, is stranded far from civilization in a forgotten town dubbed Showdown City, where the infamous gun is one of hundreds readily available for the townsfolk to settle any and all disputes. After living in isolation for over a hundred years, the town has morphed into a warped, lawless community overseen by a delusional tyrant and his quick-draw henchman—and they do not take kindly to strangers.
Huey is the one who got them into this mess in Showdown City, and now, with the unlikeliest help, he has a plan to shoot their way out.
"Wow. This is a cracker of a story. In fact I am now awaiting the sequel with baited breath (sorry, just ate some nightcrawlers as part of a bet I lost. What's that? It's bated breath? Oh, never mind then)."—David Cross, co-creator of Mr. Show and actor, Arrested Development
"Showdown City is a fast-talking slip n' slide of a ride that grabs you by the balls and doesn't let go—each page dragging you further into a bizarre-o world full of oddball characters and even odder situations. It's a smart, witty, absurdist Western for the discerning reader."—Amber Benson, Buffy the Vampire Slayer
Berger, Todd