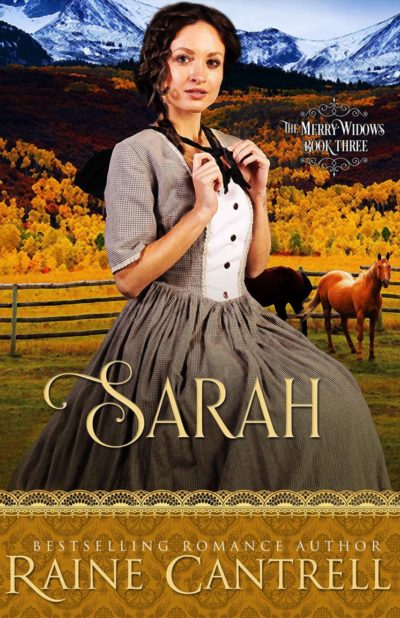 Sarah
The Merry Widows - Book Three
When a man on the run finds himself at the business end of Sarah Westfall's rifle, it could mean the end of his life…or the end of his lonely days.
Sarah Ann Westfall survived a marriage made of rosy bowers that quickly slid into hell. After her husband's untimely death, faced with a life of freedom for the very first time, she vowed never to rely on a man again. A widow willing to do whatever it takes to survive on her own, Sarah never lets fear eclipse her independence.
Rio Santee, a half-Apache outlaw on the run traveling with his two young sons, isn't used to depending on the kindness of others. Determined to get his boys to safety, he breaks into what he thinks is a poorly guarded home.
Unfortunately for Rio, his desperation puts him directly within Sarah's line of fire. What begins as a heated fight between Rio and Sarah, both fearing for their lives, becomes an invitation to stay the moment Sarah sees Rio's two sons, exhausted from their harrowing journey.Taken aback by her strength and tenderheartedness, Rio's unsure which danger is worse: the men after his life, or the woman slowly making her way into his heart.
Cantrell, Raine