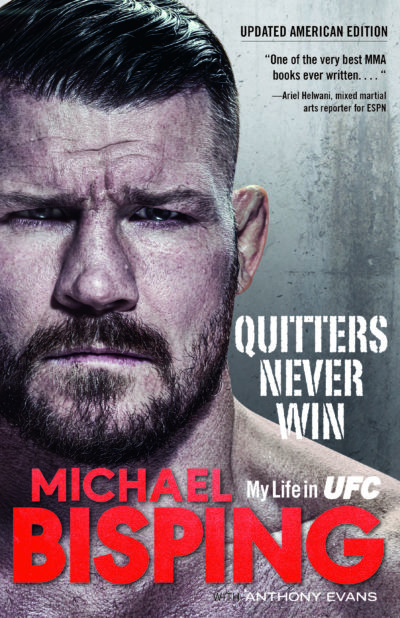 Quitters Never Win
My Life in UFC
With brand new material exclusive to this Updated American Edition, here—in his own words—is the story of the newest member of the Ultimate Fighting Championship Hall of Fame, Britain's own Rocky Balboa, Michael Bisping
Featuring an entirely new chapter for U.S. readers, the story of his induction into the UFC Hall of Fame, fresh insights about his fighting career, never-before-told stories about his film and TV career, and a harrowing account of his fighting off attempted kidnappers while filming in South Africa, Quitters Never Win tells the incredible story of how he went from rough and humble beginnings and then on to a legendary mixed martial arts career capped by winning the Middleweight Championship in one of the greatest upsets in UFC history.
"If I quit the first time I tasted defeat, I wouldn't be here now," Bisping once said.
The ultimate UFC underdog, Bisping fought his way to Number One contender three times, only to be knocked back each time. But he refused to give in, clawing his way to his first World Title shot at the age of 37—and becoming the first ever British UFC world champion.
Loaded with the humor and brutal honesty that first won him a following on the television show Ultimate Fighter 3, Bisping recounts his record setting 13-year fight career battling the likes of Anderson Silva, Georges St-Pierre, and Dan Henderson.
The most engaging UFC color analyst in recent memory, and a budding film and television star, Bisping tells his story in a way that only he knows how.