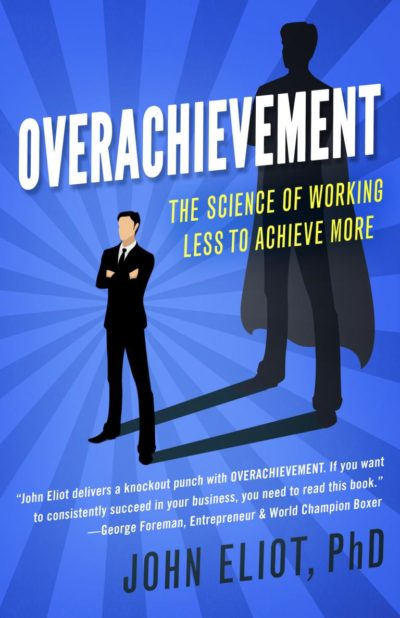 Overachievement
The Science of Working Less to Accomplish More
Were you ever advised to "just relax" before making a big speech? Don't.
From Texas A&M professor and celebrity advisor, Dr. John Eliot, this insightful guide takes a sledgehammer to what most of us think we know about doing our best. Eliot explains how mainstream psychology moves us in the wrong direction when it comes to stress management and performance enhancement; techniques like visualization and goal setting, based on pseudoscience rather than empirical evidence, often get in our way rather than propel us forward.
Drawing on field-tested experiments and extensive research in neuropsychology, Eliot shares why these "common sense" strategies tend to come up short for the majority of people—and how, instead, great accomplishments are more likely to result from "Putting All Your Eggs in One Basket", "Thinking Like a Squirrel", and "Embracing Butterflies As a Good Thing". These counterintuitive practices not only trigger your full natural talent, but also teach you how to thrive under pressure, not dread it.
OVERACHIEVEMENT incorporates Eliot's work with Fortune 500 companies, Olympic athletes, renowned surgeons, military pilots, and Grammy-winning musicians, providing you with a powerful combination of inspiring stories and life-changing tools, offering the skills needed to overcome stress and rise above your peers in the boardroom, on the playing field, or in the normal day-to-day of life.
Eliot, John