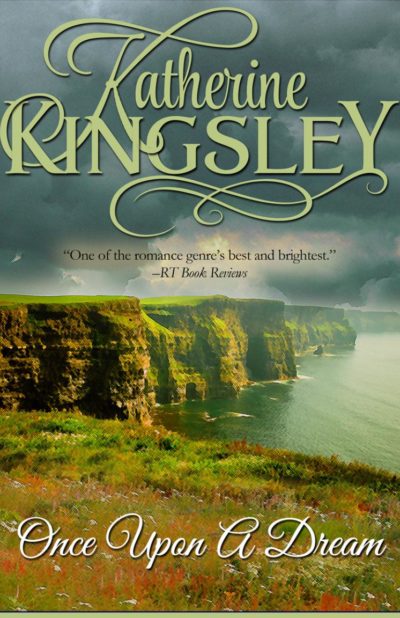 Once Upon a Dream
An Irish beauty and an English nobleman are star-crossed lovers in a fairy tale romance. From bestselling author Katherine Kingsley.
"An ardent and magical retooling of Cinderella…draws the reader in and leaves her holding her breath…emotionally compelling and intensely romantic." – Romance Forever
Lucy Kincaid endures a life of drudgery and loneliness in her stepmother's home, sustained only by her dreams of a better life and a man to share it with. She's sure her wish is coming true when a golden stranger appears on the windswept cliffs of the Irish coast. But Lucy's hopes are shattered when she realizes the man she's lost her heart to is the despised Englishman whose family stole her birthright.
Raphael Montagu is obsessed with finding the mysterious Irish beauty who captured his heart at first sight. When he discovers fate has delivered her to him at a London ball, he's crushed when she claims to have never seen him before. Even after sharing a kiss and hearing his declaration of undying love, the woman vanishes, leaving no clue as to her identity. Raphael's only hope to find his true love is to return to the remote cliffs of Ireland and unravel the mystery that is keeping him from his heart's desire.
"Miss Kingsley has woven a delightful tale…a sparkling gem." – Romantic Times
Kingsley, Katherine