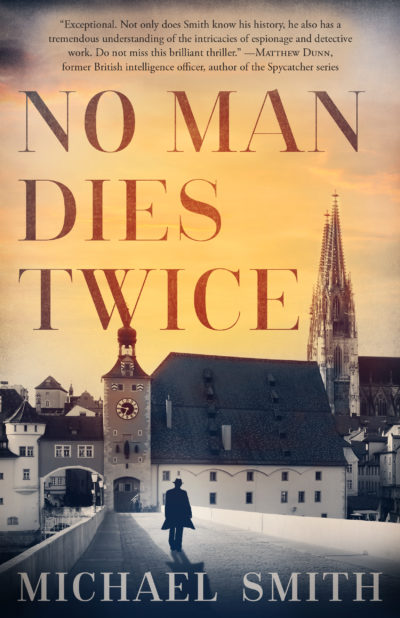 No Man Dies Twice
For fans of Tom Rob Smith comes a detective novel set during World War II. One spy has been sent to assassinate Hitler. One spy has been sent to stop him. A single policeman is all that stands in the way of changing history.
"Riveting…Smith takes us into an area of wartime Germany we have rarely read about before." —Joseph Heywood, New York Times bestselling author of The Berkut and The Domino Conspiracy
Inspector Peter Ritter, one of the few honest detectives left in wartime Germany, is losing his grip on reality. The word on the street in the small Bavarian city of Rosenheim is that Ritter is not long for this world. He's made too many enemies with his rants against the regime and his obsession with solving crime, even when the villains are Nazi officials. The Gestapo are tracking his every move, and his marriage is falling apart. His only refuge is in drunken conversations with the specter of his dead father-in-law.
When the killing of a Jew is followed by the bloody and brutal stabbing of the local Gestapo chief, Ritter realizes there is far more going on than just homicide. He uncovers a plot to assassinate Hitler, with British spies fighting a turf war on his patch. Ritter is left with a stark choice: call in the Gestapo or let the assassins succeed, in the hope that killing the Führer will save the Germany he loves.
"A powerful debut full of fear, suspense, violence and geopolitical machinations…Michael Smith explores turf reminiscent of the historical fiction of Alan Furst and Joseph Kanon." —Sebastian Rotella, author of Rip Crew
Smith, Michael