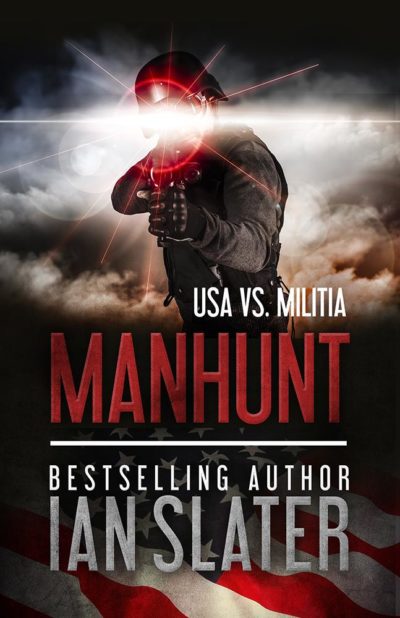 Manhunt
USA vs. Militia
In the civil war that has gripped America, there are no more neighbors, only side against side, in an increasingly vicious battle for what is left of the country. From bestselling author Ian Slater.
"As impelling a storyteller as you're likely to encounter."—Clive Cussler
Under an iron fist, the militia movement has mushroomed. Now legendary leaders have been liberated from a heavily guarded Phoenix hospital—and hostages taken for a furious, bloody ride to the California border. It's the spark the armies needed and an excuse for the Federals to unleash Patton reincarnate, Gen. Douglas Freeman.
In a once peaceful corner, from Sacramento to Seattle, America now burns. A new generation of automated weapons has been brought to the field, the skies split by artillery and the desert nights lit up by infrared. With Americans facing off against Americans, the fight for the USA has reached a turning point.
But from the other side of the globe, a new enemy prepares to tip the scales of battle with the ultimate killing tool…
Slater, Ian