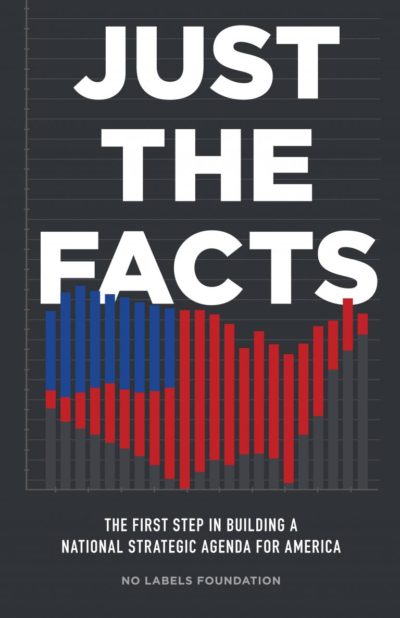 Just the Facts
The First Step in Building a National Strategic Agenda for America
"No Labels has the answer for how we unite this country and put it back on the path to prosperity and progress. The how is the NATIONAL STRATEGIC AGENDA. And JUST THE FACTS is essential reading for anyone who wants to help build this agenda. If you want to understand how America got itself into this mess, and how, with a little clarity and a lot of commitment, we can get ourselves out, pick up JUST THE FACTS and don't stop until you are finished." —Governor Jon M. Huntsman, Jr.
Everyone knows our government is broken. But both our government and our country can be fixed if enough people come together to demand a new politics of problem solving.
That's what No Labels has believed since we first launched in 2010. Now, we have launched our most ambitious initiative yet. We're spending the next year organizing leaders inside and outside of Washington, as well as regular citizens, to tackle America's toughest challenges. This new NATIONAL STRATEGIC AGENDA will be released in October 2015 and will set out a path for where America needs to go and how we get there.
JUST THE FACTS will help guide the creation of the NATIONAL STRATEGIC AGENDA by clarifying the essential facts, trends and assumptions that need to serve as the foundation for discussion of critical policy issues such as jobs, the budget, Social Security and Medicare and energy.
Politicians always tell us that we need to unite our nation. This book—and this new campaign for a NATIONAL STRATEGIC AGENDA—can show us how.
No Labels Foundation