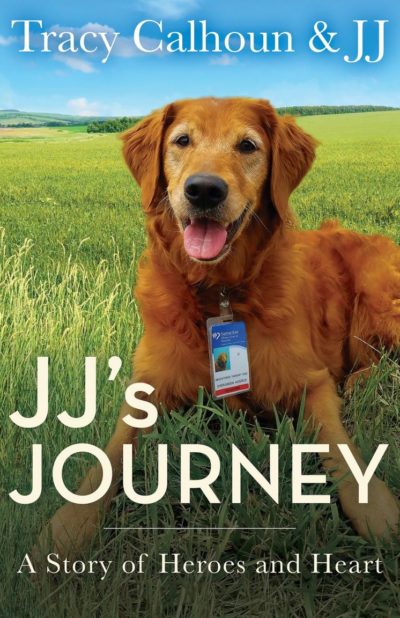 JJ's Journey
A Story of Heroes and Heart
Tracy Calhoun, a longtime nurse, shares her heart-melting memoir of working alongside JJ, the Therapy Dog, the brightest and most intuitive dog Tracy has ever trained. When not mooching dog treats, JJ is dedicated to helping humans cope with tragedy and loss through love and hugs.
Tracy Calhoun, a nurse on staff at Samaritan Evergreen Hospice House in Oregon, paused at the bedside of an elderly patient in a coma. The woman had no family or friends, but the hospice team had learned she liked dogs, so Tracy put her Golden Retriever, JJ, a staff "therapist," on the woman's bed. JJ snuggled up, nuzzled a motionless hand, and then settled in, letting her body warmth cuddle and comfort the patient in her final hours. The woman, who had been unresponsive for days, then performed her final, intentional act. She stroked JJ's head.
Tracy recorded the intimate moment on her phone, then uploaded it to Facebook where she was keeping a modest account for friends, family, and community members who knew her and JJ. In August 2015, that video went viral, and was rapidly seen by tens of millions of viewers worldwide. To Tracy, it was a turning point in her mission to explain to a wider audience the joy that therapy dogs provide, and to do it with humor and canine chaos, as only a dog obsessed with bacon, puppies, and swimming can.
Along the way, Tracy's own story has grown and changed through her love of animals, and she's found, in difficult times, she has needed the same comfort her pups offer to patients—for herself.
Calhoun, Tracy; JJ