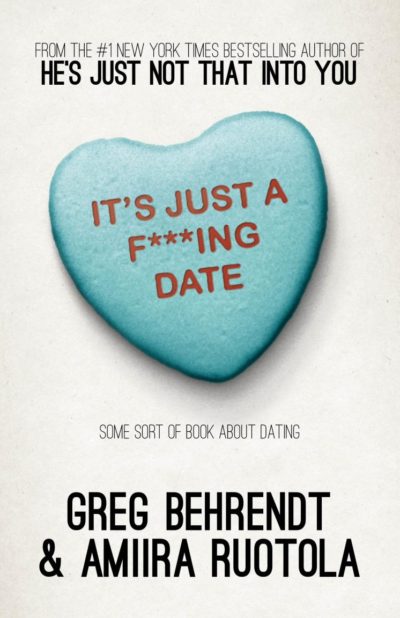 It's Just a F***ing Date
Some Sort of Book About Dating
A fun and funny guide to dating from the NEW YORK TIMES bestselling authors of IT'S CALLED A BREAKUP BECAUSE IT'S BROKEN and HE'S JUST NOT THAT INTO YOU.
"The book is jam-packed with straight-talking tips on how to bag your man, and quite frankly, we can't put it down." —THE SUN
Why does dating have to be so hard?
It doesn't! Stop trying to out-game the system and relax. IT'S JUST A F***ING DATE presents the tools, not the rules, for bringing back the art of the date. The ordeals of 21st century dating, from online dating and hooking up to pulling the plug when it isn't working, will soon be easy to navigate. With tips to define what is and isn't a date, how to get asked out, and setting your own dating standards, dating won't seem old-fashioned, it will be fun.
Bestselling authors Greg Behrendt and Amiira Ruotola return to the minefield of modern relationships with this revised and updated edition.
Praise for HE'S JUST NOT THAT INTO YOU:
"No ego-soothing platitudes. No pop psychology. No cute relationship tricks. He's just not that into you." —WASHINGTON POST
"Brims with straight talk about the boy-meets-girl game, delivered with hefty doses of humor from the Y chromosome's mouth." —USA TODAY
"A surprisingly fascinating addition to the cultural canon of single, urban life." —LOS ANGELES TIMES
"Evil genius." —NEW YORK TIMES
Praise for IT'S CALLED A BREAKUP BECAUSE IT'S BROKEN:
"You will get through this, and you'll do it faster with the help of 'It's Called a Breakup Because It's Broken'." —GLAMOUR
"Behrendt's frankness—never too harsh—is as winning as ever." —PUBLISHERS WEEKLY
"Insightful, been-there-have-the-scars-to-prove-it wisdom." —NEW YORK POST
Behrendt, Greg; Ruotola, Amiira