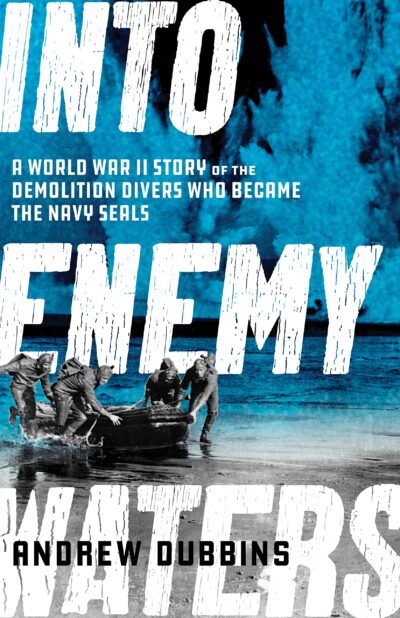 Into Enemy Waters
A World War II Story of the Demolition Divers Who Became the Navy SEALS
With echoes of Unbroken; the derring-do and bravado of The Right Stuff; and the battle-forged camaraderie of Band of Brothers, this is the World War II story of 95-year-old veteran George Morgan and the elite Underwater Demolition Teams, precursor of the Navy SEALs—who were given nearly impossible pre-invasion missions from D-Day to the most crucial landings in the Pacific Theater
Into Enemy Waters is the story of World War II's most elite and daring unit of warriors, the direct precursors to the Navy SEALs, told through the eyes of its last living member, 95-year-old George Morgan.
Morgan was just a wiry, 17-year-old lifeguard from New Jersey when he joined the Navy's new combat demolition unit, tasked to blow up enemy coastal defenses ahead of landings by Allied forces. His first assignment: Omaha Beach on D-Day.
When he returned stateside, Morgan learned that his service was only beginning. Outfitted with swim trunks, a dive mask, and fins, he was sent to Hawaii and then on to deployments in the Pacific as a member of the elite and pioneering Underwater Demolition Teams. GIs called them "half fish, half nuts." Today, we call them frogmen—and Navy SEALS.
Led by maverick Naval Reserve Officer Draper Kauffman, Morgan would spend the fierce final year of the war swimming up to enemy controlled beaches to gather intel and detonate underwater barriers. He'd have to master the sea, muster superhuman grit, and overcome the demons of Omaha Beach.
Moving closer to Japan, the enemy's island defenses were growing more elaborate and its soldiers more fanatical. From the black sand beaches of Iwo Jima to the shark infested reefs of Okinawa, to the cold seas of Tokyo Bay, teenaged George Morgan was there before most, fighting for his life. And for all of us.