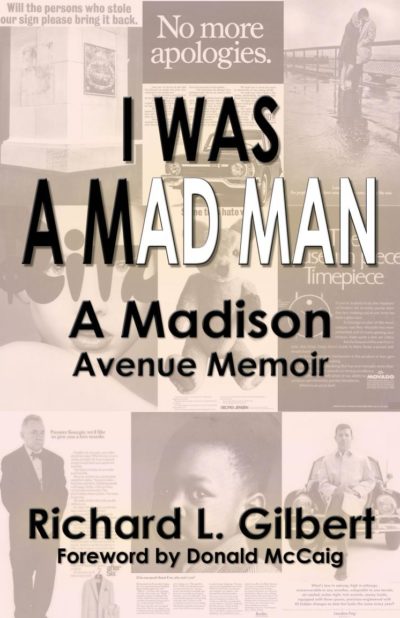 I Was a Mad Man
A Madison Avenue Memoir
When the Greatest Generation came marching home, they buckled right down to work. I WAS A MAD MAN is the story of one of those men.
Richard L. Gilbert, born in New York, devoted Giants fan in the cheap seats of Coogan's Bluff, CCNY grad, soldier, returned home in 1946. He needed a job. He found one in advertising. You don't know his name (yet) but you'll recognize his work.
In a 40-year career Richard Gilbert and his intrepid staff of copywriters, designers and artists at Gilbert Advertising changed how Americans thought about fur coats, foreign languages, cars, perfume and the Vietnam War.
Gilbert Advertising wasn't the biggest shop on Madison Avenue but it was influential beyond its size. From encouraging the Metropolitan Opera to offer less than full season subscriptions (unheard of till 1971) in the Met's first ad campaign; to persuading people Renault had mended its ways (a Renault for the people who swore they'd never buy another); to tweaking the tail of the Russian Bear (Premier Kosygin, we'd like to give you a free tuxedo); London Fog rainwear; Berlitz Language school, and Club Med, Gilbert Advertising was the creator of iconic pop culture images that remain fresh and persuasive years later.
Along the way Richard Gilbert spearheaded the ad campaign that helped end the Vietnam War (The First American Ballot on the War; Some Toys Hate War) and helped litigate protection of commercial free speech. Armed only with a pencil, and the indomitable American can-do spirit, Richard Gilbert marched up Madison Avenue into history.
This is his story, and ours.
Gilbert, Richard L.