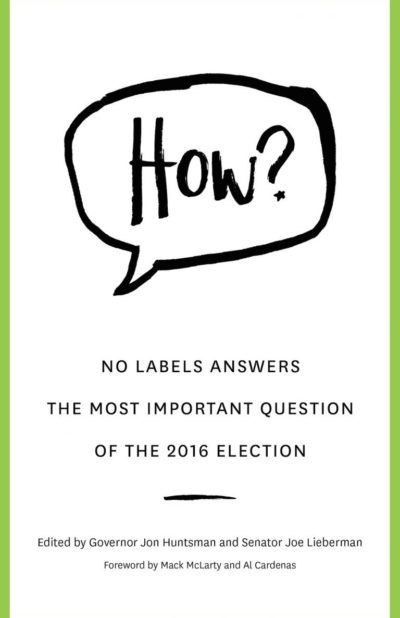 HOW?
No Labels Answers The Most Important Question Of the 2016 Election
Presidential candidates often talk about being uniters. They pledge to break through the partisan gridlock in Washington. They vow to bring Democrats and Republicans together to tackle the nation's most vexing problems.
But they never explain how they plan to do this – and their promises rarely translate to action.
In this volume, NO LABELS provides a real strategy for how – how today's political leaders can finally unite a divided country to solve urgent problems, from stagnating wages to social safety net programs heading toward insolvency.
This groundbreaking plan of action is called the National Strategic Agenda. It begins with goals for the country that come straight from the American people and ends with a commitment by the next president to embark on this bipartisan problem-solving process within 30 days of taking the oath of office.
The National Strategic Agenda has already gained the support of major figures in business, economics, academia, policy and politics, and more than 65 members of Congress. In this timely book, arguably the most important you will read during the 2016 campaign season, NO LABELS co-chairs Gov. Jon Huntsman and Sen. Joe Lieberman are joined by other leaders who've been on the front lines of problem solving in politics and business to make a strong case for this new governing framework.
No Labels Foundation